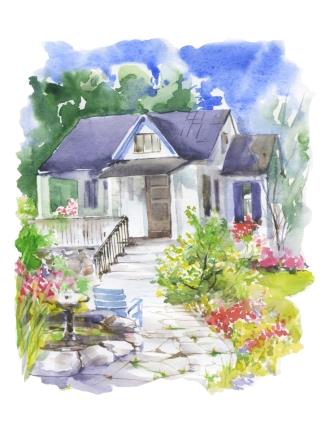 So, now that Spring is in full swing, why not think about making your garden or a piece of it into a wellbeing garden space.
One good thing to come out of lockdowns, was falling in love with our gardens all over again. Really appreciating the peace and tranquillity and restoration they can provide in our bodies from the knocks and bumps in the road of life that we endure.
What do I mean by a Wellbeing Garden?
It is great to combine your garden, with other interests that you have. Maybe you carve out a grass area, where you can do exercise. You could plant a herb garden if you like to cook. Or if you like to play games and do puzzles, why not get an outdoor chess set?
Incorporate colour therapy into your planting. You might want areas of your garden to be very calm and peaceful – perhaps where you do yoga or mediate. You could plant soft whites, cream and even lavender colour plants. Then perhaps where you sit and have morning coffee – you want bright colours like reds and oranges. You can have a similar approach with fragrance – which ever appeals to your senses more. Plants like Rosemary, Bay and Eucalyptus could all work.
Many people love the sound of water, so introducing a water feature or fountain could provide a place with relaxing trickle sounds. If this doesn't appeal, then perhaps put in a bird bath – so you can enjoy wildlife visiting your garden.
Planting in a way that encourages insects, is a lovely way to enhance a tranquil space. Many creatures will help eat bugs that you don't want on your plants! Think, Lavender, Salvia and even Buddleia.
Even a small garden could have a vegetable patch, or consider growing some of your own food in raised beds or even pots and grow bags. There is nothing quite like cooking and eating something you have grown and nurtured yourself. Cut and come again lettuce, strawberries and tomatoes are popular starter items.
Shady Corner
Lots of gardeners struggle with what to put in the shaded areas of the garden. It seems that every plant you look at in the garden centre requires full sun! You might be surprised at the colour you can get into these forgotten areas. Try: Digitalis Purpurea, Geranium Rozanne, Helleborus, Hydrangea Macrophylla, Skimmia Rubella and Viburnum Tinus.