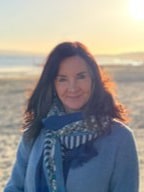 Angel is a spiritual healer and awakened empath.
Angel is blessed with very strong connections to Spirit which makes her a very gifted medium. She believes a medium cannot be made; you can only be born with the gift, it is not something that can be taught!
From a very young age Angel knew she was different, sensing everything around her. She is very sensitive to noise, light and taste and that is reflected in her readings.
Within her readings, Angel may start by choosing some Angel or Oracle cards. She has a very natural, intuitive approach, often messages from Spirit flow freely and consistently. Angel also shines as a medium and gives great comfort and support to all of her customers; especially those that have lost loved ones.
In terms of how Angel lives on a day-to-day basis, she enjoys walking in nature, being around trees and in the fresh air. Connecting with nature is so important to her. Angel feels that Earth energy can keep us grounded and energised.
When possible, Angel likes to start her day with gentle yoga moves, which is good for keeping both her body and mind flexible. To end the day Angel likes to carry out self-Reiki healing on her Chakra's; she often finds then, that when she goes to bed, she gets a fabulous night of deep sleep.
Sensing Spirit from a very young age and forming very deep bonds with animals and pets, she was nick-named 'Snow White'. Angel could be classed as an old soul; she was always way beyond her years growing up. 
Why not give Angel a call, and see how she can guide your journey?