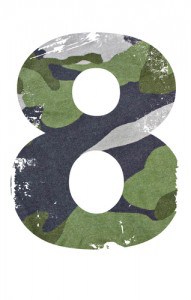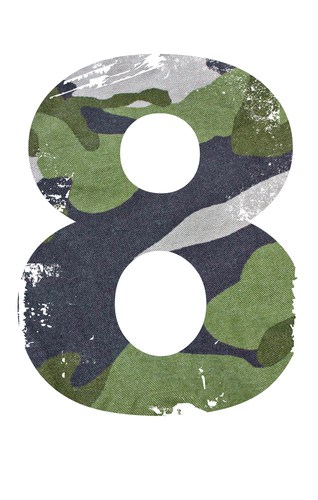 Direct, organised with a powerful drive to succeed, those with the Life Path 8 can count themselves as 'The Warrior.'
If your Birthday adds to an 8, for example: 14th August 1966
14, 8, 1966
14+8+1966= 1988
1+9+8+8= 26
2+6=8
In this case, you would have the Life Path number of: 8
(If you are unsure on how to calculate your Life Path number, refer to our previous post 'introduction to numerology'). 
Characteristics
Fame, power and wealth are the three main components of Life Path 8. They are often ambitious, driven and live for the thrill of the fight.
The '8' energy is known to be dominant, confident and to attract financial success. Eights are very honest and a good judge of character, always looking at life in a practical manner.
While Eights have a thirst for success, it doesn't come easily and they must put in the effort and seize it for themselves.
The Warrior can be very materialistic and put a great deal of time and effort into their appearance. Their challenges come from their pursuit of materialistic gains. They can become ruthless and arrogant, leading to conflict with those around them. Eights also run the risk of sacrificing loved ones for success by forgetting to show them affection and care, and should remember that it can often be lonely at the top.
Relationships
Despite their great need for close personal relationships, most of an Eights energy and attention will be fixed on their success, meaning they can become too busy and preoccupied for love. For this reason, many Eights don't settle down until much later in life when they have achieved success in the other areas of their lives.
When an Eight is in a relationship, they are dependable, frank and honest – you will never have to wonder where you stand with a Warrior.
People with an 8 Life Path need a partner whom they can guide and control, making the sacrificing 6 and feminine 2 potential matches. An 8 will find a perfect match with a 4, due to the fact that they are compatible in so many ways.
Career
Eights tend to commit themselves to their careers and have a deep desire to succeed. They have a great deal to offer to an employer but want to be recognised for their achievements so are suited best to a management or leadership role. Power and authority come naturally to an Eight and they will find success in any role where they are the decision maker – politics, business, law, finance, teaching and publishing are all natural vocations.
Famous 8's
The Life Path 8 has produced many powerful, confident and materially successful people.
Nelson Mandela – July 18, 1918
Naomi Campbell – May 22, 1970
Elizabeth Taylor – February 27, 1932
Giorgio Armani – July 11, 1934
Halle Berry – August 14, 1966
Sandra Bullock – July 26, 1964
Through their strong connection to the spirit world, Best Mediums can guide you on any matter, from troubles with relationships, to careers or simply getting on the right pathway. Call one of our mediums now.