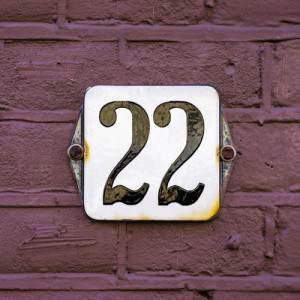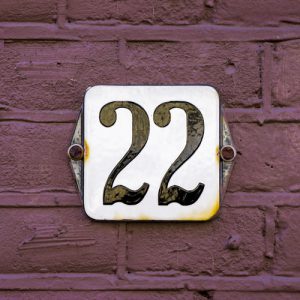 Powerful, successful and pragmatic – those with the Life Path 22 can count themselves as 'The Master Builder.'
If your Birthday adds to 22, for example 18th June, 1942:
18, 6, 1942
18+6+1942 = 1966
1+9+6+6 = 22
In this case, you would have the Life Path number of: 22
(If you are unsure on how to calculate your Life Path number, refer to our previous post introduction to numerology).
Characteristics
The Life Path 22 is often perceived to be the most powerful and successful of all the numbers. Those born under this number have the potential to achieve enormous knowledge and success.
As a master number, number 22 has both the visionary insights of a Life Path 11 and the practical, methodical qualities of 4.
The '22' energy is known to be the most ambitious of all the numbers. They are both visionary and grounded – they are not only able to envision great things, they are very capable of following through with them.
They are able to understand all types of people and their mission is very responsible, humane and often outside of their personal self. They mostly strive to serve the greater good of humanity.
With such great power, those following Life Path 22 should be careful they don't apply too much pressure on themselves or become overwhelmed by their own potential. This can lead them to shy away from opportunities or wallow from fear of failure.
Relationships
Number 22 is a steady partner in any relationship. They offer great advice and constant emotional support to those closest to them, making them reliable and understanding companions. They have the potential to be very romantic but sometimes have difficulty showing it.
Unfortunately, love doesn't always come at the top of a 22's priorities in life. Their ambitious, driven nature can sometimes mean that their partner is left feeling second best to their dreams. 22's also have the tendency to become withdrawn and impersonal from their partner, falling into moodiness or intolerance.
When it comes to finding a compatible mate, 22 is particularly well matched to Life Path's 2, 4, 1 and 11 – they could also make a good match for the ambitious and powerful 8.
Career
Many 22's become great businessmen and women because of their natural and keen sense of management. They are great people to work for as they have the ability to bring people together to achieve a common goal. Their solid common sense allows them to understand limitations and successfully turn any dream into a tangible reality.
22's are determined yet disciplined individuals and can usually prosper in a number of different ventures, coping best in business or politics where they can help build a better world.
22's may find most success as business owners, managers, builders, event planners or finance workers.
Famous 22's
The Life Path 22 has produced many powerful and successful figures including:
14th Dalai Lama – July 6th, 1935
Paul McCartney – June 18th, 1942
Sir Richard Branson – July 18th, 1950
Bill Gates – October 28th, 1955
Will Smith – September 25th, 1968
Kim Kardashian – October 21st, 1980
Through their strong connection to the spirit world, Best Mediums can guide you on any matter, from troubles with relationships, to careers or simply getting on the right pathway. Call one of our mediums now.