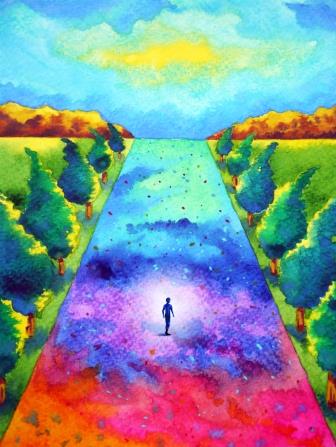 Many of us understand the benefits of meditation and may even have tried to put it into practice. However, it can be an elusive state; that many of us never achieve.
If this sounds like you, you might be interested in Mindful Walking; essentially bringing some meditation practises to your daily walk. Whether you are walking for exercise, pleasure, your commute or the school run – it is all an opportunity.
Generally, when we walk, we do so, to some extent on autopilot. Perhaps we are very familiar with the route. Maybe we are short on time and need to get from a-b. But we put one foot in front of the other and go.
Now, it is time to take a more mindful and less autopilot approach to the walk:
Try to stay in the present moment. Not to worry if things pop into your head; let them go, saying now is not the time to deal with that.
Focus on your body and how it feels walking. How is your breathing? Is it cold outside? Notice your surroundings and so on.
If your mind strays often, try to stop and notice how your feet ground you to the surface you are walking. Then carry on.
Once you have tried the basics above, you can enhance the meditation. This exercise is valuable if you are feeling anxious and need to get away from your worries:
Scenario 1
Pick two of your senses, perhaps sight and hearing. Then alternating between them – find things on your walk.
For example, maybe you see a dog up ahead off its lead. Then you hear a bird chirping. You notice a weed has grown super tall and has a beautiful flower. Then the dog runs towards you through the rustling leaves.
On another day, you can introduce touch and even smell.
Scenario 2
If walking in the fresh air is not an option, you can still do this exercise. In this scenario – inside a shopping centre. Again, use all of your senses.
Maybe, you ride up in an elevator or escalator. You notice how people are all dressed differently. You might hear different accents as people chatter. Near the food hall, you can smell the variety of dishes available. Check out the signage for lights and colours as the different shops highlight their brands.
Scenario 3
If you have limited mobility, or walking is not your thing. Then you can still try walking meditation, just in a slightly different way.
Visit a building or structure of some sort. It could be your workplace, the library or your favourite museum. It can be as new/old, mundane or fantastic as you like.
Walk all around the building; go inside if you can. Get up close to all of its features, and notice new things. Does it look different at times of the day? Does sunlight impact the rooms and windows?