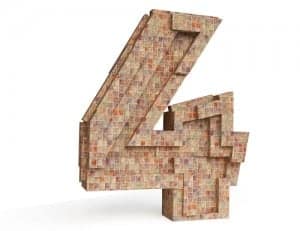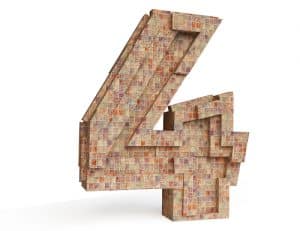 Determined, intelligent, and practical, those with the Life Path 4 can count themselves as 'The Builder.'
If Your Birthday Adds to a 4, for example: January 29th, 1954
1, 29, 1954
1+29+1954= 1984
1+9+8+4= 22
2+2= 4
In this case, you would have the Life Path number of: 4
(If you are unsure on how to calculate your Life Path number, refer to our previous post 'introduction to numerology').
Characteristics
Builders are the workers in life. They are hardworking and practical, and find hard graft extremely rewarding. Their main goal in life is to achieve success, however they put in the hours and will not cut corners or take the 'get rich quick' approach to get there.
Four's value honesty, reliability, and loyalty in others and they have a strong sense of right and wrong. They seek to establish a strong foundation in everything they do, be it at work or in their relationships.
The danger for this number is that they can fall easily into boredom, and lean towards depression and fatigue if they don't allow time for fun and relaxation.
On first impression, builders may come across as stubborn, boring or too serious, which can sometimes turn people away from them before they get to know them.
Relationships
Honesty is integral in 4's relationships, and once trust is broken they can find it hard to love again. 4's are very selective about who they let into their lives, but with the right person they will give a great deal of effort to make a relationship work. 4's are fiercely loyal, trustworthy and dependable, making them an excellent choice of partner.
People with a 4 Life Path can find compatibility with Life Paths 6 or 7.
Career
A 4's love of hard work often means they are drawn into serious careers quite early on in life. They may find most success in practical, straightforward careers such as building, law, engineering or accounting. 4s will never shy away from responsibility in the workplace, and thrive in any job involving planning and organisation. 4's make great entrepreneurs or managers, and have a strong sense of how to get a job done. 4's hard work and reliability will always pay off, giving them the rewards that they deserve for their efforts.
Famous 4's
It is rare to come across a famous '4' who hasn't worked a serious amount to get to the top. Their drive and determination to succeed is abundant, and you may notice that many of these famous 4's are keen workaholics, some of whom have devoted decades of their lives to their work:
•           Bill Gates – 28 October, 1955
•           Brad Pitt – 18 December, 1963
•           Margaret Thatcher – 13 October 1925
•           Elton John – 25 March 1947
•           Nicole Kidman – 20 June 1967
•           Frank Sinatra – 12 December, 1915
Through their strong connection to the spirit world, Best Mediums can guide you on any matter, from troubles with relationships, to careers or simply getting on the right pathway. Call one of our mediums now.