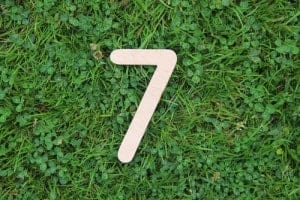 Spiritual, solitary and philosophical those with the Life Path 7 can count themselves as 'The Seeker.'
If your Birthday adds to a 7, for example: 23rd October 1972
23, 10, 1972
23+10+1972= 2005
2+0+0+5= 7
In this case, you would have the Life Path number of: 7
(If you are unsure on how to calculate your Life Path number, refer to our previous post 'introduction to numerology').
Characteristics
The number 7 has long been regarded as a sacred, spiritual number so it makes sense that those with the Life Path 7 have strong psychic tendencies, and are attracted to all things mystical.
7's are the seekers of truth in life. They are analytical thinkers and have a gift for investigation and observation, relying heavily on 'hunches' and intuition before drawing conclusions.
It is in a 7's nature to be quite introverted and they often prefer being alone. They strongly value their independence and it may take a 7 a while to warm up to somebody, but once they connect with someone they will be a friend for life.
While 7's seek a peaceful, quiet life, they might find it a challenge to maintain their much-needed solitude without becoming isolated. There is a danger that 7's spend so much time alone that they can begin to lack empathy for others, coming across as inconsiderate or selfish.
If a 7 doesn't have faith they can become very cynical and pessimistic.
Relationships
There is a part of 7's that yearn for close companionship although it can be difficult for them to form close relationships with potential partners because of their love of privacy and solitude.
7's can be charming and attractive to the opposite sex, because of their great intellect and once they open up to a potential partner, they will keep them close.
7's are sensitive but have trouble expressing their emotions so they rely on their partners to understand and accept them for who they are.
People with a 7 Life Path need a partner who will challenge them, making the imaginative 3 and the intellectually sharp 5 potentially perfect matches.
Career
7's tend to pursue higher education often to PhD or masters level. While it's unlikely that you will find a 7 thriving in a physical labour job, they will succeed in any career where they get to utilise their intellect and expertise. 7's may find most success in academics or science, and should aim for a career where they can explore and investigate. They are honest and hardworking individuals and make great mathematicians, scientists or police detectives.
Famous 7's
You may notice that some of these famous 7's are highly intellectual, independent individuals who have chosen a field and dedicated their life to it. 7's are a classic example of not judging a book by its cover and while these individuals may come across as introverted, they are pioneers in their fields and leave behind a huge legacy:
Stephen Hawking – January 8, 1942
Muhammad Ali – January 17, 1942
Sir Winston Churchill – November 30, 1874
Diana, Princess of Wales – July 1, 1961
Marilyn Monroe – June 1, 1926
Johnny Depp – June 9, 1963
Through their strong connection to the spirit world, Best Mediums can guide you on any matter, from troubles with relationships, to careers or simply getting on the right pathway. Call one of our mediums now.