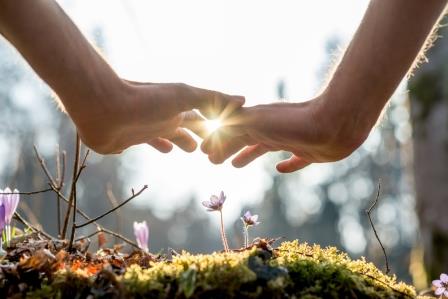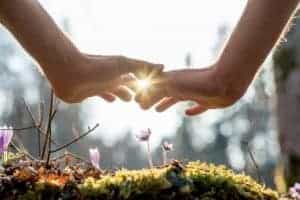 If you didn't see our introduction to healing energy – click here.
Hands on Healing
Hands on healing, is exactly as it sounds – a healer will lay their hands on a patient in order to affect some sort of change in them. This type of healing can't really be explained by science, but some say it may be connected to a healer concentrating on Chinese acupuncture points in the body, others feel healing occurs as a process of repairing a person's bio field (the energy that permeates a human body). But perhaps it goes beyond the bio field and changes actually occur within a person's aura.
Natural Healing
Natural healing might come more under what we now term 'complementary therapies', healing using colour, crystals, herbs, flowers and more…In time gone by, people would have used these methods to heal themselves, as opposed to needing a healer to do it for them. Of course this type of healing has now expanded to include may forms of therapy from acupuncture, aromatherapy, emotional freedom techniques, homeopathy to name a few… And the great news is that as these forms of healing become more mainstream, many more people feel confident to use them, and in a lot of cases medical Doctors are advocating using these healing techniques alongside western medicine for maximum impact.
Reiki Healing
The 'Rei' stands for universal and 'Ki' stands for life-force energy in Japanese. Reiki involves healing energy being channelled from the healer to the patient through their higher energy centres, the power manifests and goes to the mind and body of where the patient needs it most.
The Reiki practitioner will draw on their heart, throat and crown chakras as well as their third eye. The idea is that the patient's body will increase its natural ability to repair and restore itself.
Reiki Masters must progress through three degrees of learning, after this progression they can teach others. A Reiki healer may use the healing energy to help animals, to cleanse living areas, to evoke spiritual development, to create self-healing as well as to provide healing of mind, body and spirit of those who are poorly or in distress.
Native American Shaman Jamie Sams sums up what healing should mean, no matter what type you choose "When we look at the idea of medicine, we have to embrace the total person: the body, the heart, the mind, and the spirit. When any of these parts are out of balance, then there is a need for healing."
Ref: The Essential Guide to Myth, Magic and The Supernatural, by Cassandra Eason