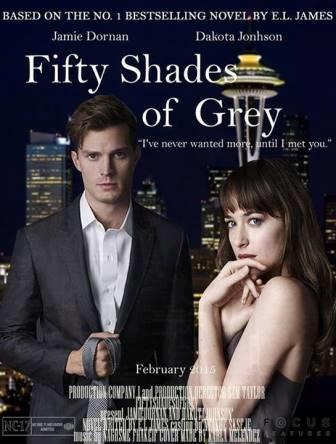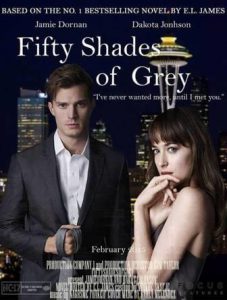 Whether you are single or attached, if you are at a loose end on Valentines, or are looking for an alternative to the normal dinner date, then perhaps you will be pleased to know that the Fifty Shades of Grey movie is released on the 13th February, just in time for Valentines.
The movie is of course an adaptation of the book: Fifty Shades of Grey by E.L. James, it is fair to say that the books in the trilogy/the author have taken some flak, in part due to the writing quality, but to be fair James started writing fan fiction based around the Twilight story.
The books have been called many things – mummy porn, dark romance, erotica for women to name a few. But whether you read the books or not, or wherever you land on your thoughts on the genre it is hard to argue with the figures. Since its release the trilogy has been translated in to 51 languages, and in print and via e-book more than 100 million copies have been sold, making it one of the biggest and fastest selling book series in history.
Fans are always concerned about how a book will be translated to screen and this project had controversy before it even started filming. As you'd expect, the fans were eager to know who would take on the main parts of Christian Grey and Anastasia Steele. Ian Somerhalder, Matt Bomer, Francois Arnaud, Alexander Skarsgard were all rumoured names, but in the end it was Anarchy's Charlie Hunnam that was selected to play Christian, but shortly after supposedly for scheduling issues he pulled out of the role, and eventually the part was recast to Jamie Dornan. Anastasia's role was equally speculated about, with Shailene Woodley, Imogen Poots, Emma Watson and Alexis Bledel all being mentioned, but in the end the role is played by Dakota Johnson.
With the subject matter as it is, it was always going to be a fine line between pleasing the fans and including the racier parts of the book in the movie, and not offending film goers by showing soft-porn at the theatre. Equally on the makers/producers minds has got to be how will ordinary people respond, it is one thing to download the book to read on your iPad, it's another thing entirely to front up to the cinema in person…But they have gone all out with the music, both for the young and old and the soundtrack includes Beyoncé, Sia, Ellie Goulding and Frank Sinatra to name a few. No doubt if the film is a success then maybe a second and third will follow to complete the trilogy.
Whatever you do this Valentine's Day we hope you have fun!