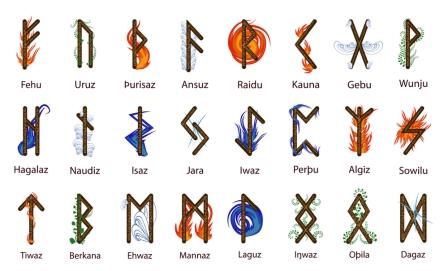 Runes are an ancient Germanic alphabet, dating back to around 150 AD. Runes appear on amulets and it is thought they were carved on to be used as charms.
What are Runes?
They were originally used for writing but over time they were replaced by the Latin alphabet, which we still use today. Runes are still used to this day for magical and divinatory purposes in order to analyze the path that a person is on and a likely outcome. The word 'rune' actually means mystery, secret or whisper.
Where did they come from?
Each rune has a story attached to it, a relationship to a Norse God. According to legend, runes were first given to the Norse God Odin. He hung himself from Yggdrasill, the World Tree for nine days and nine nights after wounding himself with a spear. When the runes appeared to him, he reached down and took them and the runes knowledge gave him power. This story is described in the poem – Havamal – which is supposedly Odin's own words.
Who used them?
For many centuries the runes were only used by an elite few. However they started to become really popular in the 80's, when they were commonly used for their magical and divinatory purpose. Many psychics started using runes in order to give readings, and around this time there were numerous books, guides and sets published giving information on how to use runes in this way. Many people starting out on a psychic path begin with runes for inspiration.
How do they work?
During a rune reading a person will first form a question in their mind. The runes are then gently mixed in a bag. They can then either be drawn out one by one or a selected few can be cast over a flat surface. The way the runes land is important to how they are interpreted. For example if a rune lands upright, it has a certain meaning. If a rune lands upside down, it has a different meaning. A psychic can read the way the runes fall in many different ways and it is up to them to decide how these meanings apply to the question at hand.
We are currently offering £5 off a credit card reading this month, so why don't you take advantage of this great offer and try a reading from one of our psychic mediums. You may just find the answers you have been looking for!