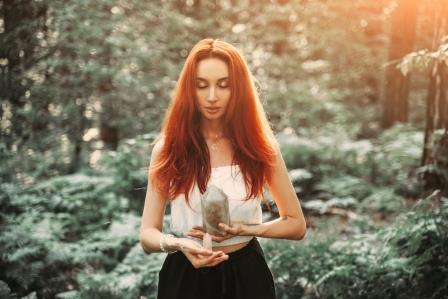 Quartz is a fantastic crystal to add to a collection, as it is considered a master healer.
The healing abilities of Quartz mean it can tackle any problem or health condition, stimulating the immune system and calming the body to bring about peace and balance. Equilibrium is restored as Quartz can create harmony across all the chakras.
Spiritual Benefits
This crystal can be great to use at this time of year when we are feeling a bit frazzled and are burning the candle at both ends. It raises your energy levels to the highest possible!
If you are feeling disconnected spiritually; and want to get back in touch with your purpose – then this crystal should help. 
When using Quartz, you should find your intuition is heightened, and you are psychically more tuned in. If you struggle with distractions and negative thoughts when meditating or practising mindfulness; then this gem may be a great source to assist.
Quartz Colours
Many of us will be familiar with clear Quartz, often found in a cluster with point shapes or as pillars. It can have a somewhat golden smoky hue. But there are many other colours of Quartz that you may want to consider, as they can have specific attributes you may find worthwhile. Here are a few examples:
Blue
Use this gem to lessen fears.
Blue Quartz can calm a busy mind.
Encourages reaching out to others for support and guidance.
Harlequin
Use this stone to reduce feelings of hopelessness.
Provides a will to recover from illness and overcome difficulties.
Harlequin creates a strong connection between the physical and spiritual worlds.
Lithium
Considered to be a natural anti-depressant.
Reconciles grief and anger, especially feelings from the past.
Quartz is an excellent all-rounder healer and chakra cleanser. Great for humans, animals and plant life.
Tangerine
Increases positive vibrations; and puts limiting beliefs into perspective.
Provides lessons in life and love and finds the joy in everyday occurrences.
Tangerine is valuable as part of past life work, especially if there are feelings that a past mistake is preventing you from healing today and moving forward in life.