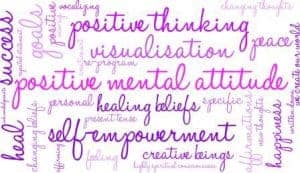 Have you ever found yourself saying things like – 'knowing my luck', I'm sorry or I'm afraid…The chances are we all have from time to time, but some of us will be stuck with these go-to thoughts in our heads and they translate their energy to our everyday thinking and living.
But it is possible to free yourself from negative thought patterns, and there is much to gain from doing so – improved self-confidence, an increase in productivity and an enhancement of your psychic and spiritual awareness to name a few…
On a daily basis try to use positive affirmations to reinforce good thoughts into your mind and to distance yourself from negative behaviours, people and situations.
Affirmations can be anything that suits your life, ideally they will be simple and easy to remember – but inventive. If written down then think about them being no more than four lines each. Use a different affirmation for each area, for example health, family, love etc. Take ownership of your affirmation by using 'Me' and 'I'.
For affirmations to be successful you need to commit to them in the way you would changing a habit. Stating them out loud three times a day for a month would be a brilliant aim. Try to carve out a relaxed or even meditative state to say your affirmations if possible.
Here are some ideas to point the way:
Health: I will respect and take care of my body and will enjoy being healthy, my body will look after me and I will listen to what it tries to tell me.
Love: I will attract love to me; I deserve to be loved and to attract compassion and happiness into my life, I will offer love and understanding.
Success: I will be open to new opportunities, I believe I warrant accomplishment, I will be creative and will recognise appreciation.
Healing: I will choose options that are best for me, without feeling selfish, those that make me feel whole, happy and healed.
Abundance: I will lead a passionate life; I will create positive energy and will feel grateful for the inspiration and motivation in my life.