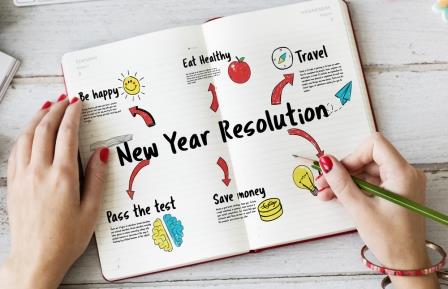 New Year's resolutions are something many of us will be making this year, however they are notoriously difficult to stick to!
The New Year is the perfect time to start afresh, leaving all regrets behind and turning over a new leaf, but the majority of the time, we lack the willpower to keep our resolutions and go back to bad habits. Because of this we have devised a list of 5 tips for you to follow in order to make sure you keep your New Year's resolutions this year and make 2023 the year you achieve your goals!
Write your resolutions down
1 – Writing your resolutions down, whether you have made one or several, can allow you to remind yourself of them each day. This will also allow you to stick to your original resolution without changing it when things get tough. You could try making a poster or writing post-its to put around the house to remind yourself of your resolution and to keep you motivated. If you are dieting, put reminders of your targets around the kitchen or if you are tying to cut down on spending leave yourself a little note in your wallet. Repeating your message in writing will have double the impact on your brain and stop you from giving into temptation.
Make the resolutions achievable
2 – Often we set our sights too high and set ourselves unrealistic targets that are impossible to reach. Make sure you know what your limits are and don't let your resolution get you down. Whether your resolution is quitting smoking, losing weight or sorting money matters, ensure that you set an achievable time frame for yourself. You aren't going to be able to change things over night and it's important you understand this before you set out otherwise you may find yourself disappointed.
Set goals along the route
3- Setting goals will significantly help you to stick to your resolution. Create realistic weekly or monthly targets that you want to reach and you'll find that it breaks the process into easy manageable chunks, making it easier for you to reach your final goal. You could even draw yourself up a star chart or something similar so you can track your progress and see how far you have come. And don't forget to make sure you reward yourself each time you reach a target for all your hard work!
Support from family and friends
4 – Having a network of support around you is essential in any new endeavour. Letting your loved ones in on your resolutions will stop you from feeling alone in your attempts and can give you some much needed motivation. Talking through your feelings with someone you trust can help relieve some of the pressure and they may be able to give you valuable advice if they have done something similar. Surrounding yourself with people who won't let you give up on your resolution will greatly increase your chances of achieving your final goal.
Stick at it
5 – No matter how much you feel like giving up, remind yourself of the reasons you set your resolutions in the first place. Consistency is crucial if you want to keep your willpower going strong, make sure you are aware every day of what you want to achieve. For example if your resolution is that you want to start exercising more, make sure you do it at the same time every day and get a routine going, this will start to establish in your memory, making it harder to give up.
Whatever your New Years resolutions this year, make sure you understand that you aren't going to achieve your goals straight away and there is a lot of work to be put into making them stick. However following these tips can help you find the strength and willpower within yourself to persist. Good luck and make sure that you use this New Year as a positive and happy new start!