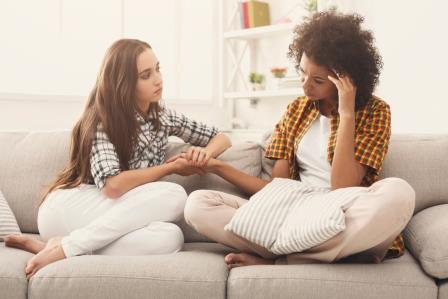 We take a look at 'listening'. If you have ever had counselling or been in some sort of talking-therapy arrangement. Then you may well have marvelled over just how little your advisor actually said!
In contrast to what you often see on TV programmes as a patient/therapist relationship, where the counsellor asks lots of probing questions and a lot of 'how do you feel about that'… In reality, a good therapist actively listens and gives the person, time and space to explore their own emotions.
Only Half-Listening
You may consider that you are a good listener… But, very often in a conversation, we can be only half-listening. The other part of us is already getting ready to share a similar experience. Perhaps input a witty anecdote or move on to a new topic? A good listener focuses entirely on what is being said. They are not afraid of the odd pause, while they gather their thoughts before asking a relevant question, getting the friend to further expand on the topic at hand.
Active Listening
This type of active listening is useful in so many areas of life. It makes partners, family members, work colleagues and friends feel heard and valued. It's not always easy to listen, without feeling the need to guide the conversation. To bring it back to us in some way, or interject opinions. When you give people space to talk, you will find they fully elaborate and get everything off their chest that they need to say.
Difficult Conversations
Of course, some conversations are more light-hearted than others. But you usually have a sixth sense for when someone needs to talk about something more serious, even if they seem to be beating around the bush to some extent. If you find yourself in this situation, then follow these tips for a successful listening conversation:
You might find it easier to be out on a walk, people don't always find it easy to open up when sitting in close quarters face-to-face.
Your body language can tell a person a lot about whether you are fully engaged in what they are saying. Put down your phone/work, and let the person know you are ready to talk.
Try not to fill gaps in the conversation. Let the person think and start talking again when they are ready.
You can of course ask 'open' questions, but sometimes a more useful technique is to clarify your understanding of what the person has shared with you, including perhaps how they might be feeling.
Remember, that the person probably isn't looking for your advice or take on the situation. They may just need a safe space to explore what they are going through. The closer the person is to you and the more you care, the harder it is to not rush in and try and fix everything. But resist, as what is right for you, might not be right for them. Try and set aside how you might feel in the situation and what you might do and focus on what the person is saying.
It can be helpful to reinforce to the person your belief in them, and that you trust that they will know what is right to do for them. Often people have a gut instinct on issues, they just need a reminder to trust in their judgement.