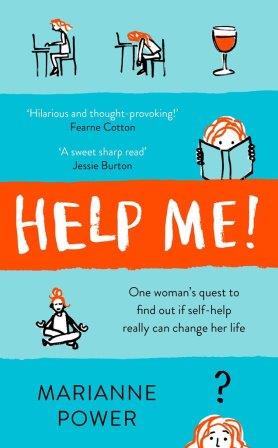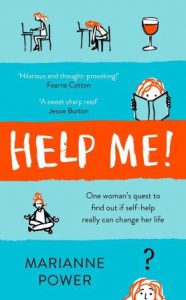 What happens when a person decides to let their life decisions be guided by a self-help book, and not just one book, but the principles of one self help book per month for a year? Well, that's exactly what Marianne Power did, and she documents the moving, and oftentimes funny journey of self-discovery in her book, called Help Me!
So, what got Marianne started on this quest in the first place?
Well, she was feeling 'stuck in a rut'; she was single, home was a rented room in London, and she was constantly broke! Then several years ago, whilst nursing quite the hangover, she had the idea to explore self-help books and then write up her experience via a blog. This was not a big leap for her as she was already a freelance journalist. The blog got under way in 2014, and it wasn't long before its garnered interest from book publishers, but Marianne didn't say yes at first, trusting her gut instinct that the timing was too soon – maybe the self-help was paying off! But eventually she did strike a deal, with the publishing house Picador, and it is probably no surprise that she felt so comfortable with them, as they also were responsible for turning Helen Fielding's column for the Independent into Bridget Jones Diary. There have of course been plenty of comparisons and parallels drawn between Marianne as being the modern-day version of a Bridget Jones character.
Self Help Books
What is funny about self-help is that despite all of the new entries into the market place, people still turn to the old classics in the field and Marianne's experiment was no different – You Can Heal Your Life by Louise L. Hay, The Power of Now by Eckhart Tolle, The Secret by Rhonda Byrne and The 7 Habits of Highly Effective People by Steven R. Covey to name a few.
Funny Anecdotes
The book has many funny moments, and Marianne is not afraid to really show her vulnerabilities, as she overcomes her fears regarding parallel parking a car, posing for a nude life drawing class and chatting up a stranger on the Tube as a few examples. Sprinkled in amongst the book, is Marianne's life story and ultimately at the heart of the matter her quest to get answers to life's big questions, not to mention finding a way to be happy and content!
The Ending
I think it is fair to say that if this was a Disney production, there would be a moral to the story, a messy middle and a fantastic end to the story. I'm sure a happy ending was what Marianne wanted when she began the journey and what readers would like to imagine when starting the book. However, the reality is perhaps a little bit different…In fact, the longer that Marianne immersed herself in the world of self-help the more she analysed herself, the more disordered things became.
It took a sudden death in the family, and flying back to Ireland to be with her mother to halt the experiment, and although unwelcome these jolts of reality put things in perspective. There are books that Marianne really enjoyed, and some components that really spoke to her, but in the end what she felt the most was that self-discovery and self-healing, self-help are all a bit too focused on 'self', and that these developments are much better when undertaken, not by ourselves and that we do best when we surround ourselves with people that support and be honest with each other.