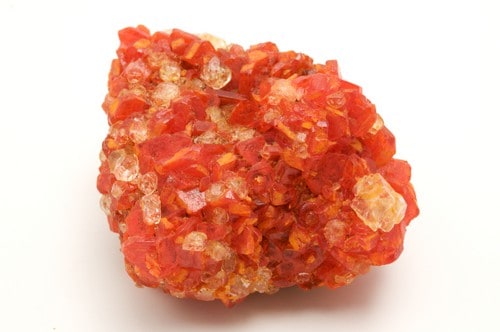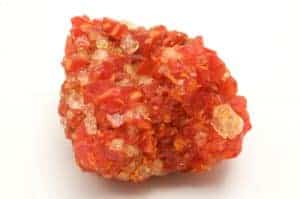 For those looking to connect further with the earth's energies, look no further than the fiery and energetic Vanadinite.
You will usually find Vanadinite ranging in colour from caramel brown to striking red and burning orange.
Vanadinite was first discovered in Mexico, however deposits can now be found in over 400 mines worldwide. Suppliers of Vanadinite include New Mexico and Arizona, however the largest supplier Mibladen, Morocco has by far produced the most outstanding crystals. 
Vanadinite is a mixture of a number of minerals including Vanadium, which it was named for. Its distinctive colour makes it a very popular mineral among collectors.
A stone of service, the discovery of vanadium happened 'twice'. The discovery of vanadium was claimed first by Andres Manuel del Rio, a Spanish mineralogist, in Mexico City in 1803. He prepared a number of salts from a material contained in 'brown lead' which came to be known as Vanadinite.
Known as a stone of service, Vanadinite inspires action, promoting order in your life and inspiring you to accomplish your goals. It is also a mentally stimulating stone, and helps organise the mind. This energy can help you carry out the orderly planning of everyday tasks. Vanadinite promotes thrift, so if you have a tendency to overspend then it could be the perfect crystal to work with.
Perhaps Vanadinite's greatest strength is its ability to aid meditation. The stone can be used in a great number of techniques, and is excellent at clearing the mind, which is essential for a deep state of meditation.
The stone works best with our lower chakras. It energises our base and sacral chakras and once you connect with Vanadinite's energy there's no holding you back! It inspires and stimulates creativity, thrusting us into action. What better way to clear those blockages than to use the fiery energy of Vanadinite to shift any stagnation and bring our lower chakra centres to life?
The energy Vanadinite can give you is truly wonderful. If you have a job which requires you to work long shifts or late nights, then Vanadinite can give you the enduring energy you need.
Physically, Vanadinite can help with respiratory disease, and can help with breathing difficulties such as asthma and congested lungs.
Vanadinite likes to work alongside you, supporting your desires, so it is an ideal stone to place by your bedside or under your pillow to inspire creative, intuitive dreams. Alternatively, you may want to keep Vanadinite close by at work. If you are feeling the effects of fatigue or need extra strength to meet the office deadlines, choose Vanadinite to give you the spark you need to get through.
Because crystals are so connected to Earth, it is believed that crystals can help you connect to spirits more easily.
Simply get in touch and enter your chosen readers pin number when prompted.