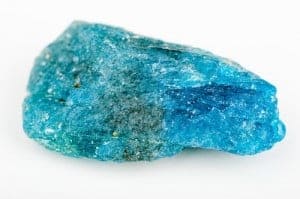 With the arrival of 2014 earlier this month, you may have been thinking about making some big changes in your life.
However as it is estimated that around three quarters of us will give up on New Years resolutions by the end of January, it seems many of us may need a boost in maintaining our goals.
Utilise the positive power of the motivational stone apatite.
This deeply spiritual stone has a great cleansing influence on the aura and its stimulating energy can help your life in many ways.
If your goal for 2014 is to lose weight then look no further than apatite. This aptly name stone is believed to help supress appetite and raise the metabolic rate for those wishing to shed a few pounds. It works through the sacral chakra, where most of your digestion takes place, helping you to break through your self-imposed limitations.
The action of its vibration within the body also helps to remove cellulite. Anger and tension that has been stored within the tissues is released into your energy field leaving you feeling cleansed.
The stones vibration also strengthens the effect of any exercise you do, overcoming lethargy and elevating your energy.
Apatite is named from the Greek word 'apate', which translated, means 'deceit', since Apatite has a similar appearance to so many other minerals…
Major sources of apatite include Mexico, Canada, Germany and Brazil, where it is the most common type of phosphate in the world. The stone itself is composed of calcium phosphate, which is the same material that makes up humans and animals teeth and bones.
The stone is most commonly found in its blue form; however it can also occur in brown, pink, yellow or green. Its value generally depends on its saturation, and although apatite is a very common mineral, transparent, gemstone-quality apatite is quite rare. Other rare shades including blue-green or leek-green apatite (sometimes referred to as 'asparagus stone') are sought out by connoisseurs for their attractive colours and forms.
If you are seeking to move on in your career this year, Apatite may also be as equally helpful. It is thought to be especially supportive in times of unemployment, or during a job search.
Attune it to your chakras by simply wearing or carrying a piece with you throughout the day or during meditation. Many believe this stone is so powerful, even a small piece of Apatite can be extremely beneficial.
As the New Year dawns, all we really need is a determined attitude and positive outlook to achieve all our goals for 2014.
Healing crystals will help encourage happiness and prosperity through their particular energies and influences, so whatever it is you're looking to achieve this year incorporate a healing stone into your life.
Have a look through our previous posts on healing stones to see which one would benefit your resolutions this New Year.