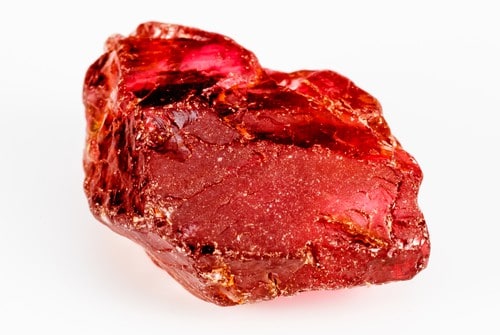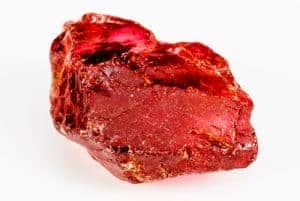 Revered since ancient times, the garnet promotes good health and success in business. It's no wonder that garnet crystals are some of the most prevalent healing stones in the world today.
Often perceived as a rich, dark red, the garnet can actually occur in a range of striking colours from green through to orange and jet black. The most prized garnet is an emerald green variety called demantoid, and the rarest is the blue garnet first discovered in Madagascar.
Australia is currently the world's largest supplier of garnet, but other noteworthy sources include China, India, Turkey and Russia, who all produce large amounts of industrial garnet.
The name garnet comes from the Latin word 'Garanatus' meaning 'seed like', a reference to the garnets similarity to bright red pomegranate seeds. Garnets have been worn as jewellery dating as far back as 3000BC. In medieval times the stones were thought to cure depression, protect against bad dreams and relieve diseases of the liver. According to legend, the only thing Noah had to illuminate his ark through the darkness of the night was a glowing garnet. Perhaps this is why to this day; the garnet is a popular gift to give a loved one embarking upon a trip.
Known as 'the warrior's stone', garnet is a great protection stone believed to heal injuries and bring about peace and tranquillity. The red colour of the garnet suggests its connection to love and desire. In this sense it can be used to restore lost passion or enhance feelings of love, loyalty and commitment in a relationship. It is also believed to heal the broken bonds between separated lovers.
Garnet is extremely useful for balancing the emotions, and it is believed that one of the garnets strongest virtues is to assist one overcome depression. Aiding you to let go of negative habits and thought processes, it alleviates emotional disharmony and strengthens your survival instinct. After working with garnet you may find your self-confidence grows and your inner spirit radiates.
Garnet can boost your whole systems energy as it has a way of drawing negative energy from your chakras. Garnet is primarily associated with the root chakra, located in the base of your spine. When this chakra is blocked you may experience problems manifesting in your joints, lower back pain, and problems with your hips, legs or feet. Garnet regenerates the body and is reported to alleviate these symptoms, promoting overall good health.
This warm, bright stone has been a popular choice in jewellery for centuries, and was even a favourite of Queen Victoria. Following in her royal footsteps the gem has made a number of appearances on the red carpet, cherished by celebs such as Selena Gomez, Emma Stone, and Jessie J.
Wear a garnet pendant to resonate with your root chakra, giving you energising, protective and grounding energy throughout the day or place under a pillow to alleviate bad dreams.