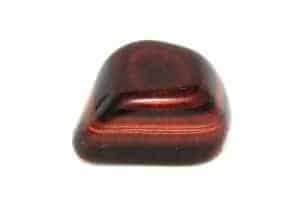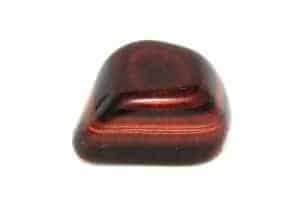 The tiger's eye, powerful, watchful and protective as its name would suggest, is thought to express a grounding and strengthening energy.
The tiger's eye is a member of the quartz family and like all quartz it is largely made up of silicone dioxide. It can be identified by its golden to red-brown colour, although additional colours include the calming blue tiger's eye and the stimulating red tiger's eye. It is one of the more unique and interesting gemstones to look at, with a silky, striped surface, the fibres of the stone reflect, resembling a cat's eye.
Tiger's eye has been known to man for thousands of years, first found in western South Africa in the early 1800s. Today it can be found in several countries including Western Australia, Canada and parts of India and the US, although it is believed that the most beautiful forms of the tiger's eye are mined in Africa.
Known as a protection stone, the tiger keeps a watchful eye on its wearer and may even bring them good luck. The stone also has the power to focus thoughts and give the soul a sense of security, helping us to maintain a calm mind and peaceful disposition. Tiger's eye has been used for its spiritual properties since ancient times when it was used for defence against evil spirits. The stone has even been used for protection in battle when Roman soldiers wore it in order to gain clear insight about the battlefield without deception.
Its influence is thought to bring clarity of mind, allowing us to make decisions objectively and without outside influence. If you need to make some changes in your life, then tiger's eye is the stone for you.  Just like life itself, the colour of the stone is constantly changing, reminding us to accept and let go of our past.
The tigers eye has a great influence on meditation. Its soft and gentle vibrations promote peace and calm, bringing about positive energy. Of the seven chakras, tigers eye is used to balance the solar plexus chakra, bringing confidence, power and warmth. You can find out more about which crystal can be used to heal each chakra in our previous blog post on crystals.
To benefit from the healing properties of tigers eye, setting it in jewellery can be a great option. Choose what works for you whether it is a ring, necklace or pendant. With a hardness of 7 on the Mohs hardness scale, the tigers eye is durable, hard and can be worn daily. Remember to cleanse your stone by running it under luke warm water every 15 days, as it can absorb a lot of negative energy.
The tigers eye is surprisingly inexpensive so if you are looking for a stone that makes interesting and unique jewellery or to use as a spiritual healer, Tiger's Eye is definitely worth pursuing.