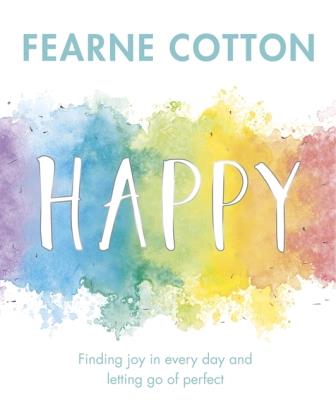 Many of you will instantly recognise Fearne Cotton and with good reason as she has been on our television screens since the age of fifteen when she was spotted by the Disney Club (ITV). And of course for her ten years spent hosting live shows on Radio 1, initially alongside Reggie Yates and then alone, and including the coveted delivery of the Top 40 show. She is currently filming Celebrity Juice (its 16th series).
Fearne is an active user of social media and is ranked amongst the world's 250 most influential 'tweeters', she lives in London with her family and her first book was published in June 2016 called 'Cook Happy, Cook Healthy'. She has now followed this up with a new book titled 'Happy: Finding joy in every day and letting go of perfect'.
Most of us probably imagine that Fearne's fun and upbeat style of presenting is representative of her personality once she is off-duty, but in fact she has been through some darker periods in her life and suffered with depression. She has been extremely brave in highlighting these battles and from February 17 is working as an ambassador for charity Mind – http://www.mind.org.uk/. It is easy to imagine that celebrities are immune to feeling depressed, and it reassuring to know that even those with good jobs and opportunities still experience periods of difficulty.
'Happy: Finding joy in every day and letting go of perfect'.
The book Happy has not only been written by Fearne but also includes her hand-drawn illustrations. The content very much draws on her own experience of what has worked for her in times of difficulty in order to bring the joy back into her life. There are workbook elements, and it encourages you to get in-touch with your creative side. There are suggestions for how to start and end your day, practical ideas and visualisations – many simple ideas and tricks you can use as reminders of how to unlock your inner-happiness.
Fearne very much hopes that the book will be pivotal in you letting go of the stuff that is going on in your head, whether it is pressure from school or work, going through a big change in your life or just feeling overwhelmed and frazzled in general.
For Fearne the real changes began when she let go of the way that she imagined her life had to be, picturing that great happiness would come when certain achievements were reached. She now firmly embraces what brings daily pleasure into her life such as family, fresh air, healthy food, music and very much taking things one small step at a time…
Here is what Mind (the mental health charity) said about Fearne's book:
"Fearne's account is wonderfully honest and relatable, and it's also extremely comforting and reassuring too – knowing that even someone in her position is still working through certain issues – issues that a lot of us are working through too."
Book Image courtesy of The Orion Publishing Group