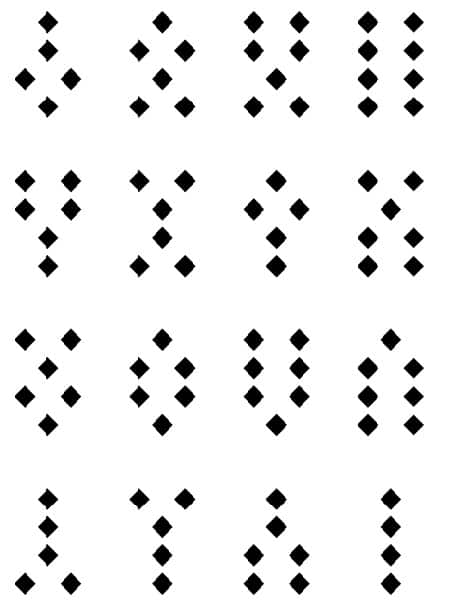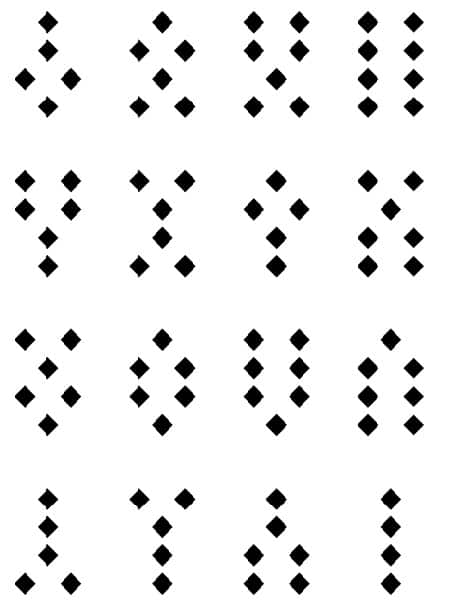 Derived from the Greek word meaning "earth prophecy" Geomancy is a method of divination that interprets markings on the ground such shapes found in sand, soil and rocks. Although many forms of Geomancy exist the most prevalent form involves interpreting a series of 16 figures. These 16 Geomancy each represent the a certain state of the world or mind but can be interpreted in different ways depending on the query being asked and the method used to generate the symbols.
Below is a quick explanation of each the 16 symbols:

Via
Is the symbol that represents the road, it considered a bad omen apart from when it is associated with the travelling or journeys, the word Via is Latin for "the way."

Cauda Draconis
Latin for "the tail of the dragon" as you can see from its shape, this symbol is also bad in most situations and in old traditions the reading would be stopped if this symbol was found, it is only considered good associated with an ending or completion of something.

Puer
The symbol represents a sword and is associated with male energy, aggression, war and male sexuality, Puer means "the boy" in Latin.

Fortuna Minor
Latin for "the lesser fortune" it is symbolic of success coming down like beams of light but indicates a weakly positive outcome.

Puella
Latin for "the girl" it a good symbol in most situations especially with women, beauty and feminine associations

Amissio
The figure is supposed to be two bowls or cups turned upside down, it is a negative symbol which represents something outside of one's grasp, Amissio is Latin for "Loss".

Carcer
Latin for "the prison" the symbol is meant to show an enclosure or the link of a chain, it is usually bad in most situations and relates to a set back or delay.

Laetitia
The symbol is meant to show a rainbow or fountain and is associated with joy and happiness, in Latin Laetitia actually means "the joy".

Caput Draconis
Similar to the symbol Cauda Draconis this symbol translated to "the head of the dragon," it is a neutral symbol but can mean the start or beginning of new things.

Conjunctio
The symbol resembles crossroads and in latin means "the conjunction" it is also a neutral symbol but can represent the joining of two things.

Acquisito
Similar to the symbol Amissio this symbol represent two cups or bowls turned upright, it is good in most situations, in Latin the word means "gain" and is associated with obtaining new things.

Rubeus
This symbol is meant to be an upturned glass, it represents good in everything evil or evil in everything good. Like the symbol Cauda Draconis it is considered a very bad symbol, in Latin Rubeus means "Red."

Fortuna Major
Latin for "the greater fortune" the figure resembles blessings growing up from the earth, it is good in all situation can mean a great fortune in coming.

Albus
The symbol represents an upright glass and represents good company, it is good in most situations and in Latin means "white."

Tristitia
The figure resembles a broken arch and means sorrow or loss, it is a bad symbol which is Latin for "Sorrow."

Populus
Latin for "the people" the symbol is meant to resemble a bird's eye view of a group of people, the figure can mean that the outcome of a situation relies on a group of people.
Geomancy was once practices by people from all social classes throughout Europe and Africa in the Middle Ages and Renaissance. People would have known all of these symbols by name and would have been able to perform their own readings. It was popular right up until the 17th century when most occult traditions fell out of fashion but has recently seen a new resurgence of interest.
There is a vast amount of more information about Geomancy that we have not had time to cover in this blog post but we hope it has given you a brief insight and that you feel compelled to find out more about this interesting method of divination.