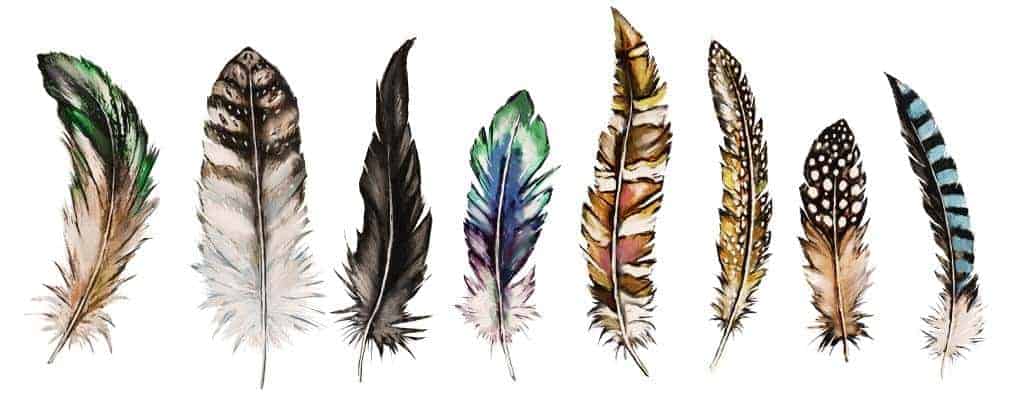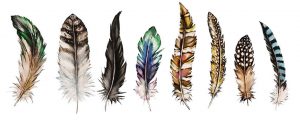 Birds and their feathers have been used for centuries as both talismans and as predictors of the future.
In its simplest form a feather crossing your path can be read as a message trying to reach you. The way that you see a feather could be far and wide, one might fall from the sky, you might be gifted a present or jewellery that has a feather design, or in this day and age you could see something in a gift shop or printed on a t-shirt… The symbolism might be in you repeatedly seeing and noticing feathers in all of their forms.
Different colours help with the mystical meanings:
Black –  Interpreted as spiritual wisdom. You can use a black feather to disperse pessimism, negativity and disapproval. It can also be used as an amulet for the home providing protection from unwanted visitors.
Blue – These colour feathers stimulate intelligence and enhance psychic cognizance. Use this colour when you need to tune in to your intuition.
Green – The colour of nature – the green feather is all about new beginnings: fertility, health and wellbeing, growth and fresh starts. Harness its energy when you want to make changes.
Red – The strong vibrant colour of red is all about life-force, it represents your personal energy and power. Use this feather when you need to take action – it will propel you forward and help you get things done.
Yellow – The vivacious colour of the sun, is all about creativity and the joy in life. It represents prosperity and that is not necessarily financial, but it is useful when you are moving forward with a new project.
White – The ultimate colour for connecting to a higher-power, your psychic ability will be heightened with this feather. Symbolising moon energy, the feather offers protection and answers – ask the questions you need guidance with.
Different Birds offer different spiritual meanings:
Bluebird – Joy, pleasure, humbleness and calm – a bringer of light.The message is its important to do what you love, try not to get bogged down in the humdrum of work and life commitments. Harness the rarity of the bluebird for creative expression to find happiness and joy in everything you do.
Condor – Permanence, strength and family ties. Family is strength, it is important to lean on them in times of trouble. You need to keep moving forward, you are on the right track, don't let set backs stop your progress. The condor lets you know you are stronger than you think you are.
Crow – Creative, smart and watchful. Let the crow teach you to observe, don't always act fast, it pays to take notice and let your intelligence speak for itself. Don't lose sight of the magic of possibilities, move forward with creative projects and ideas.
Eagle – Divine enlightenment, inspiration and peace – for finding happiness and driving away bad energy. The eagle teaches us to take a step back, you need to get fresh perspective on a situation. Now is not the time for the minutiae details – it is time for the bigger picture. Visualisation and meditation will help you focus.
Falcon – Intuition, higher-power and success. The falcon is all about trusting and listening to your intuition – it won't steer you wrong. This bird will appear in your life when you are in a state of flux and transition, let it guide you on the right path.
Hawk – Communication, foresight and life meaning. The hawk is all about your destiny! Learn from the bird to be sharp and aware, so you don't miss any message from a higher power. Not everyone will appreciate your talents, but with the hawk's guidance you will learn to soar above and reach your maximum potential.
Heron – Willpower, aptitude and self-sufficiency. The Heron is a graceful bird, follow in its path of slow but sure progress. It is also telling you it is okay to go it alone, it is good to be self-reliant and stand on your own two feet. Remember life is full of choices, if something does not work out – move onto the next thing.
Hummingbird – Delight, purity and joy in life. This delicate bird is all about balance and finding joy wherever you can. Its about looking after yourself and ensure wellbeing. Living mindfully and being aware of karma or cause and effect – these are the important routes to vitality and living blissfully.
Kingfisher – Love, affection and abundance. The kingfisher represents harmony and peace. It is time to let love into your life. Embarking on a new adventure may seem scary but think about what you might miss out on if you don't trust that you can prosper. Its time to see what opportunities can work out for you.
Raven – Enchanting, devious and game changing! The Raven is magical but can be sly and cunning. You should trust your insights and intuition – but make sure you closely analyse your motivations… Trying to gain power or seek advantage over someone or a situation is not the way to go. Harness your inner magic and find a better more trusted way to do things.
Swallow – Fresh ideas, shelter and affection. Are you getting side-tracked? Its time to declutter your mind and life and stop getting bogged down in minor details. Don't keep raking up the past, or re-hashing old ideas. Now is a time for fresh perspective. Take a break, rise above what's gone before and move forward with the positive solutions you need.
 Woodpecker – Good judgement, enquiring and progressive. The woodpecker brings fantastic perspective to old problems and where you might be repeating old habits for the worse. Is your thinking chaotic? It might be time for a new approach. You need to get more in-tune with your body and soul, connect with the rhythm of your life! Try a more structured approach, you might be surprised what answers that brings you.