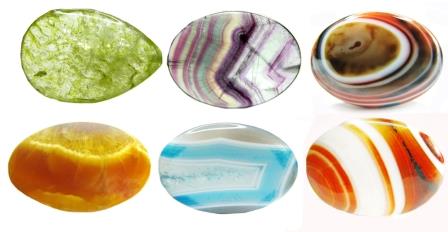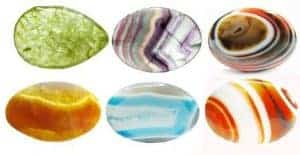 You might not have heard of Crystal 'Palm Stones' before, but simply they are crystals that are oval and flat in shape, that literally fit into the palm of your hand.
They are perfect for crystal healing, you can just pop one in your pocket or bag, and they are extremely tactile, giving you access to the healing energy whenever you need a boost.
You can simply carry it in the palm of your hand, or lay them on your skin as part of a meditation, helping you to both feel their warmth and harness their energy.
You can keep a selection on display at home, and just pick up what you are drawn to on any given day on your way out the door.
Make Your Own
You can actually make a set of palm stones of your own. You could use shells or pebbles you have found on the beach this summer. Those that you find appealing and are naturally drawn too. Different colours and shapes are all good, but ideally you should stay within the parameter that it will easily sit in your hand, with some sort of smooth surface, so that you can make contact.
You can paint or draw onto the palm stones you create if you so wish, to reinforce the message behind each one. Or you can just let the differences, colours, textures, shape etc. do this job for you.
You might choose to have a set that represents the elements: Earth, Fire, Water and Wind. Or you might give each one a one-word meaning: Hope, Peace, Love, Friendship, Karma and so on – the possibilities are endless!
Crystal Options
If you choose to purchase some palm stones, here is a sample of just a few of the crystals available and the benefits they can bring into your life:
Amethyst – Peace, calm and creative thinking.
Aquamarine – To banish phobias and pacify nerves.
Black Tourmaline – Protection from negative thoughts and to promote understanding.
Calcite – Creativity, visualising, concentration and purification.
Carnelian – When you need courage, it's a great healing stone and grounds you.
Citrine – As an energiser, bringing joy, prosperity, self-esteem and optimism.
Garnet – A healing stone in times of chaos and trauma.
Lapis Lazuli – Increased psychic awareness, friendship, dignity and honesty.
Moonstone – The ultimate feminine stone, providing wisdom, flexibility and nurturing.
Rhodonite – Overall well-being, reducing anxiety and increased generosity.
Rose Quartz – For emotions, compassion and love.
Sodalite – Clears the mind, and relieves a heavy heart.
Topaz – Intuition, insights and wisdom.