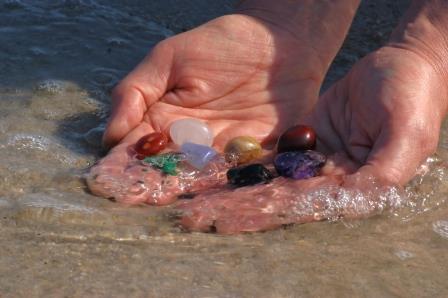 You may often hear or read the term 'cleansing', referring to spiritual rituals and daily habits. Sometimes this term is confused with cleaning or clearing, and although there are some similarities, there are also many differences when it comes to this ancient spiritual act.
Cleansing is helpful for spiritual tools and spaces. The most common of these; are your crystals, alter space and ritual tools such as candles etc. It is, however, also important; to cleanse your spiritual self, body and energies. In this article, I will take you through various ways in which you can do this; and easy ways to incorporate it into your daily practice. 
The Importance of Cleansing and Clearing
It is important to cleanse your crystals, tools and energies regularly. Or as often as you feel you need to, simply because it clears away old, stagnant and possibly negative energies and recharges items; so, they can be used to their fullest potential. Take, for example, a crystal that you have been keeping in your pocket all week to give you strength and courage in the workplace. This crystal will have been working hard all week to dispel and absorb negativity for you, and now cleansing it properly; will release all of this. 
How to Cleanse your Tools, Space and Self
There are many ways in which to cleanse your space self and tools. Let's start with how to cleanse; your crystals, candles, and similar. Here is a list of various ways to do this; however, when working with crystals, always check which ones can safely be placed under water, soil and salt before you complete your cleansing, as some crystals can be damaged, with various cleansing methods. For example, amethyst crystals will fade in direct sunlight, so cleansing with running water or under moonlight is more suited to their unique needs.
Under running water
Cleansing under running water – is very common. And is an easy way to cleanse your crystals and spiritual tools (assuming they are waterproof). Simply hold each crystal under cool running water (or even better in natural running water if you are near any), and in your mind's eye, imagine the crystal releasing all of its previous unwanted energies with the flow of the water. 
Cleansing with sunlight and moonligh
Cleansing with sunlight and moonlight – is a great way; to both cleanse and charge crystals and items at the same time. Place all of your crystals in direct sunlight (but not the ones that can be damaged by direct sunlight). Then, leave them to absorb the power and energy of the light. This technique; also works brilliantly under the moonlight and even better with a full moon overhead. Any crystals that will fade under sunlight are fine to cleanse and charge under moonlight, so that's a great alternative for these. 
Incense and smoke
Cleansing with incense and smoke – the usual form of incense to cleanse crystals and tools is Sage. Light the incense or smudge stick and bathe your crystals and tools in the smoke. Although sage is the go-to for this practice if you need extra power to banish negativity, Dragons Blood is a fantastic cleansing tool. Incense is also a great way to cleanse entire spaces and rooms in your home, and it works just the same as when using it to cleanse smaller items. Incense is ideal when you are moving into a new home, if there have been some arguments that you want to move on from, or for banishing any negative energies from your environment. 
Cleansing with soil
Cleansing with soil – is a thorough way to cleanse crystals and items; however, remember to check that it is safe to do so with each item before you do it. I like to do this when I receive a new crystal as it gives it a deep cleanse and grounds the new crystal, ready for you to bond with it for the first time. The easiest way to do this is to bury or place your crystal into bare soil overnight; this can be done outside or in one of your favourite potted plants inside.
Cleansing with salt
Cleansing with salt – similar to a soil cleanse, this is a pretty thorough way to cleanse crystals, but as always, some types of crystals do not cope well with salt cleansing, so always double-check before you do it. Using pure dead sea salt or Himalayan salt is important for this – no table salt, please! Bury a crystal in the salt overnight, and it will be cleansed and ready for use the next day. 
Cleansing using your breath
Cleansing using your breath – is a useful technique; if you are stuck on other methods to cleanse or need to do a 'quick cleanse' on certain items. Any crystals you do this with must already have bonded with you; and have been thoroughly cleansed in the past. Hold the crystal in your hand and use your breath over it. In your mind's eye imagine all the negative energies leaving the crystal and charge it with your new fresh energy. 
Cleansing your Body and Spiritual Energies
Cleansing your body is just as important as cleansing your tools and crystals because when it comes down to it, your body is one of the most important tools in your spiritual practice! You may be surprised to know; that pretty much all of the above methods; can be used here. Why not treat yourself to a cleansing dead sea salt bath after a hard day, or lay on the bare soil outside to feel grounded and recharged? Burning Sage or Dragons Blood will cleanse you, along with your environment, and we all know how good a bit of sunbathing (or moon bathing) feels.
I hope this helps you in your day-to-day spiritual practice and gives you peace of mind that all your tools, crystals and personal energies are cleansed, refreshed and ready to face whatever each day throws at you.
Best wishes
Sarah