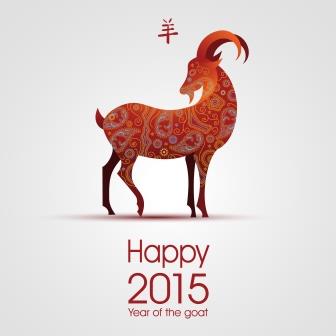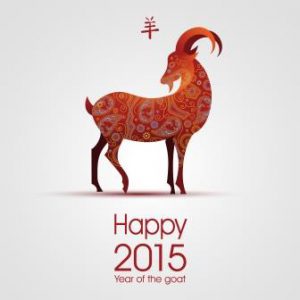 Chinese New Year goes from the 19th February 2015 to 7th February 2016 and the period welcomes the Year of the Goat or Sheep/Ram.
Goat years are: 1931, 1943, 1955, 1967, 1979, 1991, 2003 and 2015.
Goat lucky numbers are 3, 9 & 4. But 7, 6 & 8 should be avoided.
Primroses, Alice Flowers and Carnations should be the flower of choice for Goats.
Lucky colours for Goats are Green, Red and Purple.
Their luckiest months will be August and November.
In terms of compatibility:
Goat's best matches are the Pig – this would provide the happiest combination. The Horse would be an interesting match where they would not bore one another and the Rabbit would make a nice happy couple.
The worst combinations are the Tiger, Rat, Ox, Rooster and other Goats. Mainly these would make good friends but not lovers. They would find they have to pretend to be happy…
Somewhere in the middle ground fall Dragon, Snake, Monkey and Dog's – these do not make ideal mates, but stable relationships albeit with some difficulties may be possible.
Goat Characteristic's:
Those born under the sign of the Goat are kind-hearted, sensitive and highly creative. They can be quiet, preferring not to be the centre of attention. Honesty and stability are important to them and they will have a strong sense of justice. They should not be underestimated, because while they have many gentle qualities, they have opinions of their own and can be strong on the outside, with excellent resilience and defensive instincts.
Day to day, Goat year people are economical and will treat business matters cautiously. Pessimism and hesitation is their enemy, especially in their careers. Often they are worriers and they can be over-sensitive and sometimes puzzled by life. Hence they will do best when they can express themselves in a creative or artistic capacity, jobs involving writing, baking, interior design, floristry, acting, hair/make-up styling, music, art or teaching would all be fulfilling for them.
Those born in goat years are generally very healthy, their normal serenity and calm living puts them in good stead physically. Eating regularly and good sleep patterns, lots of fresh air and access to sunshine keeps health issues away.
Goat people are not the easiest to get to properly know as they are private by nature. It is they who will choose whether to let you into their lives. They are more likely to have a few close friends than be surrounding by lots of people they do not know very well. Surprisingly once in a relationship they can be a bit bossy, but also utterly charming, sweet and romantic – making them hard to resist!