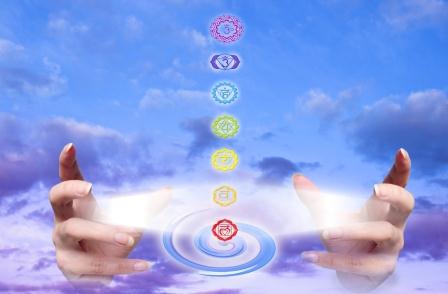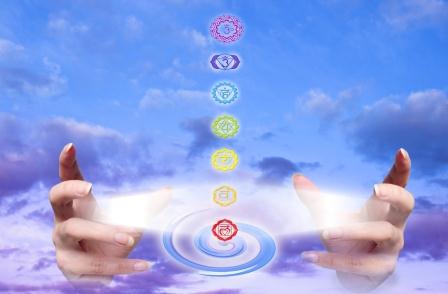 Chakra is the Hindu and Buddhist belief of life forces within the body, these are centres of Prana. Chakras are the vital points of energy in the physical body, these correspond to our major branches of arteries, veins and nerves. The name Chakra actually comes from the Sanskrit (an ancient Indo-Aryan language) word for wheel or turning.
A Chakra has been described as a spinning wheel that forms a vortex and sucks in all vibrations and energies around us. Our body is said to have hundreds of Chakras that are key to our operation. These "spinning-wheels" draw in the coded information of vibrations and energy on any spectrum including ultra violet light, microwave energy or even another person's aura.  This means that our chakras have a big influence on our bodies depending on the energy around us; this is why other people's moods can end up affecting us. As well as drawing in energy our chakras also radiate out our own energy vibration. 
Chakras connect us on number of levels; mental, emotional, spiritual and physical. On the physical level we have seven main chakras, each governs a main organ or gland within our body, these are then connected to the other chakras within our body that resonate on the same frequency. The seven main chakras are: the crown, brow, throat, heart, solar plexus, spleen, and root. These chakras correspond to the pineal, pituitary, thyroid, thymus, pancreas, gonad and adrenal glands in our body. To balance our chakras whether on a physical, emotional, intellectual or spiritual level our chakra has a colour vibration. From top to bottom these seven colours are; violet, indigo, blue, green, yellow, orange and red.
We talked about the many different types of energy that our chakras can be effected by; these include cosmic rays, gamma rays, radio waves and visible light. The sun is a massive source of energy providing us with light, heat and energy to sustain every living thing on this earth. The colours within visible light that you can see in a prism or the seven colours of the rainbow have a deep connection to the chakras. Each colour of the light has a different wavelength and vibration frequency, each affect us differently. For example red has the longest wavelength which means it has the slowest vibration frequency which we feel as warm and stimulating. At the other end of the scale violet has the shortest wavelength and the fastest frequency which we recognise as cool and calming.
The light and colours have physical effects on our body, we see light with our eyes which in turn gets processed by the retina and via the optic nerve and visual cortex sends signals to our glands. Our glands trigger hormone secretions in various parts of the body which affect our chakra system. It has been proven that certain colours can calm the mind while others can stimulate it. Knowing the associated colours of each chakra can mean that we can influence them with colour, for example somebody with a headache may use a purple or violet stone to place on the head which is the colour of the crown chakra connected to the pineal gland. Practitioners of chakra have used this system for many years and it is a very effective way of influencing our bodies using chakras.