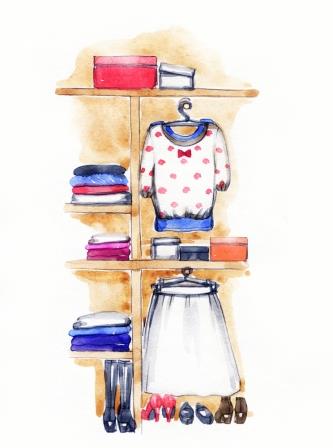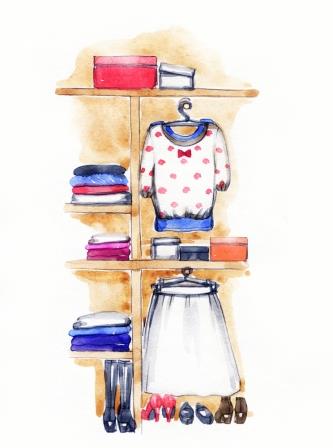 We now have so many choices in life, that decisions are more complicated than ever and we often make the same selections over and over again regardless of whether they are right for us or not.
Our wardrobes are a classic example, just take jeans – there is an overwhelming choice of colour, cut, style, for instance on the Marks & Spencer's website for women there are 62 options before you get into shade or size…
As winter becomes spring and then spring becomes summer, it can be hard to make room for everything from jumpers, to coats, to shorts and more. So, is there an argument for a capsule wardrobe, and if so what do you choose?
Do you have enough storage at home for all of the clothes, shoes and accessories that you own? If the answer is no – then it is time to downsize your wardrobe!
Read on and take the following steps:
Get rid of any items in your collection that are worn out, have stains you can't get out, or need repairs (that you haven't got around to).
Remove any clothes that no longer fit. Think long and hard about pieces that you have kept/or bought imagining you will slim into them…
Eradicate any items that no longer fit your lifestyle – perhaps you had a 'corporate wardrobe' and no longer work in the same type of job.
If you have items that are sentimental – for example a wedding dress, or very smart items like a tuxedo that you would only use on special occasions – find a way to safely wrap and store them outside of your everyday wardrobe.
Anything that still has life but is no longer working for you can be passed on to your family, friends or charity.
Then you need to take a long hard look at what is left:
For this step you need to group together your similar items of clothing, obviously this list will differ from women to men: jeans, trousers, skirts, dresses, tops, shirts, jackets, jumpers, shorts etc.
Then you need to look at seasons. If you are short on space, you might want to think about having a 'suitcase system'. Where 2 or 4 times a year you pack away and swap clothing. For example, at the end of the winter you put away heavy coats and big jumpers and get out shorts, swimwear and holiday attire.
Then with what you have left it is time to analyse each section, do you own 5 pairs of black trousers? Do you always wear the same ones? Have you bought more not realising that you had so many and so on.
Cull your items until you have a reasonable number of pieces in each category. Paying special attention to items that will go with lots of other pieces in your collection.
To help you reduce the items, ask yourself whether your immediate response to the piece is a 'yes', 'no', or 'maybe'. Then check did you wear the item in the last 12 months. If not, it should be a no, unless it is a sentimental/occasional piece. Put back only yes items – you should be able to clarify the maybe pieces with the above points.
Then live with the capsule wardrobe for a period of time, that will help you identify any gaps.
So, looking at your life – clothes for work, for home, for hobbies, for the gym, for gardening/DIY, for events etc. Do you have items for each category – if not it is time to shop! But make sure you only add the items that you really need to your new capsule wardrobe – that will be pieces that you love and will wear time and time again.
In short this is the system:
1)    KEEP – I love this item – it fits, it goes with lots of things and suits my lifestyle.
2)    DONATE – I like this item – but I never wear it, when I try it on it looks different to how I imagine, so I put it back.
3)    THROW AWAY – I never wear this item, it is too old, the zip is broken, it has a mark, it doesn't fit, it no longer suits me or my lifestyle.
4)    SUITCASE – This item is still suitable but is for the wrong season.
5)    STORE – You want to keep this item for sentimental reasons or for occasional use.