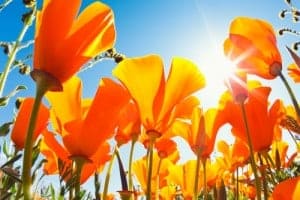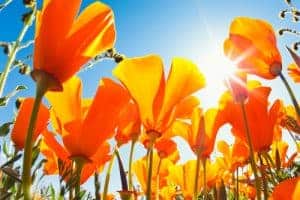 May Day or 'Beltane' marks a time for new beginnings.
The ancient Celts believed that the spring equinox was a time for renewal and regrowth as the earth reached its peak for harvest. Traditional celebrations included rituals to protect cattle, crops and people, and to encourage growth around the earth. It is essentially a time of fertility and harvest, the time for reaping the wealth from the seeds that we have sown.
While the celebration of Beltane largely died out by the mid-20th Century there is no reason why you can't be inspired by it's message, and incorporate it into the regrowth of your own life. May 1st really is
the perfect day to put all your energy into making new plans and philosophies, and thinking about what your hopes and dreams are for the coming year.
At the heart of Beltane is the celebration of life. It is the season of union, fertility and deep found love, marking the return of vitality and passion of the summer. Beltane is the perfect time of year to attract a new love in our lives. Not only do we have the natural energy of the sun and the earth behind us, but there is also a celebratory atmosphere that helps to 'push' that energy out to others around us.
Use Beltane to energise your heart chakra and help you open up to receive love. Begin by lighting a pink candle and placing it among a circle of May blossom. Put on some ambient music and ensure you are completely comfortable. As you breathe in, imagine your heart being filled with soft pink light until it slowly begins to fade. You could try incorporating a rose quartz crystal – its pink colour is known for drawing and holding in the energy of love.
You may also want to use the season to not only look to the future but look back at your "harvest" of the last year.
What did you accomplish? What challenges could you have faced differently? Many of us are susceptible to getting through a year, only to look back and wish we'd have done things differently. In looking back we can begin to create a plan for things we want to achieve in our lives in the coming year.
Perhaps you are looking to change career paths, reassess your finances or move house this summer. A psychic reading can help you harness the power of Beltane, and guide you down the right path.
Regardless of what your query is, our readers are on hand to assist you.
If you are looking for guidance in attracting a new relationship then call upon Psychic Light readers Shawn and Cheyenne. Their reassuring and caring approach will reassure you on any worries.
If you are seeking to give your career a Beltane makeover then entrust readers Norma and Monique to channel your path.
We wish all our readers a happy and productive Beltane!