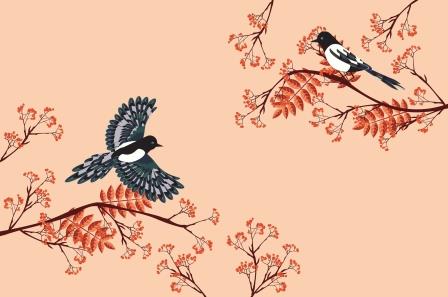 Birds have long been revered for their magical qualities, much of which was garnered for their ability to take flight.
In time gone by, many believed that birds were God's messengers and were seen as either announcers of good omens or pending disasters.
Auspicy
The word Auspicy describes divination through bird flight. In Ancient Rome, trained Philosophers would have completed the interpretations. They divined in a sacred space called a Templum. The Philosopher would face East, with the South to his right and the North to his left; he would wait for a bird to enter the sacred space. At this time, it was believed that the messages were from Jupiter, and the divination often concerned matters of appointing high officials or even peace and war.
Auspicy Folklore
Of course, like any form of divination – Auspicy eventually filtered out to regular people. They might have looked at the type of bird, where it was seen, and the time it was seen. Then, the quality of the bird, and in particular their feathers and their flight, all would have contributed to the information discerned.
Magpies
The humble magpie is a classic example of how folklore can pass down the generations. No doubt, you have heard some version of the almost 'nursery rhyme' concerning seeing magpies:
Variation 1:
One for sorrow, Two for joy,
Three for a girl, Four for a boy,
Five for silver, Six for gold,
Seven for a story yet to be told.
Variation 2:
One's sorrow, Two's mirth,
Three's a wedding, Four's a birth,
Five's a christening, Six a dearth,
Seven's heaven, Eight is hell,
And nine's the devil his old self.
Many variations of the rhyme exist, and this can vary depending on where you live. For example, in Lancashire – there are often extra lines:
Eight for a wish, Nine for a kiss,
Ten a surprise you should be careful not to miss,
Eleven for health, Twelve for wealth,
Thirteen beware it's the devil himself.
Heading Off Bad Omen's
Despite the wording in the above rhymes, many believed that you could counteract any bad omens; by carrying out certain rituals – ensuring that any messages you received that day would be positive.
In just about all of the rhymes, seeing just one magpie is bad luck – if another magpie does not quickly follow in to view, then folk did one of these things:
Saluted the bird.
Tipped their hat, or bowed their head and offered a salutation – such as 'Good Morning' or 'Good Afternoon'.
Talked to the magpie: "Mr Magpie, how are you this fine day?"
If you consider yourself superstitious, then; you may like to take on the Far East version of thought around magpies. They believe that chattering magpies signify the bringing of good news, and generally, this bird means happiness and prosperity.
Ref: Encyclopaedia of Magic & Ancient Wisdom, by Cassandra Eason