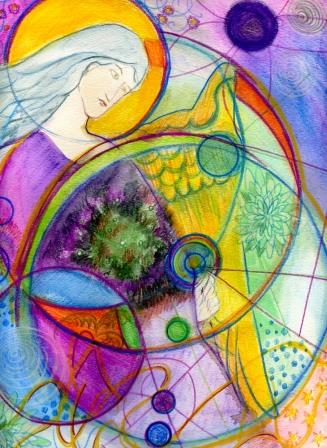 Asariel is often depicted carrying a trident and wearing a seaweed crown, fitting as she is the patron angel of the waters. For this reason, she is also often seen shimmering in colours of the sea, like aqua, blue and green.
This archangel also rules over the planet – Neptune, the seven ancient planets all have ruling angels, who support manifesting mankind's dreams and aspirations.
What are Archangel Asariel's main duties?
Watching over the waters
Creativity
Intuition
Dreams to reality
What are Asariel's Gifts?
Care of ourselves
Caring for others
Care of the planet
Dignity
Responsibility
What can Asariel teach us?
She allows us to tap into our more sensitive sides, so that our true feelings may rise to the surface.
Asariel is a supporting angel, especially in times of difficulty – offering a steadying hand, when life is going through ups and downs.
Like the Temperance card in Tarot, Asariel helps you to find inner-calm, through balancing out your emotions.
Lessons in living from Asariel…
Imagine you are like a flowing and ebbing tide of the sea, there will be peaks and troughs, but you don't have to ride every wave. Go more with the flow, rather than against the tide, letting go of any fears along the way. Be grateful for the endless choices and abundance that life offers you.
Imagine you are a sea creature with a shell. Learning when to protect yourself and crawl into your shell, and when to expose yourself to the world and be vulnerable. It's a valuable lesson in thriving, not just surviving.
Nurture yourself, go about life in a sensible and dignified way, treating others how you would like to be treated. Focus your grace and power where it is truly needed, and will be most beneficial.