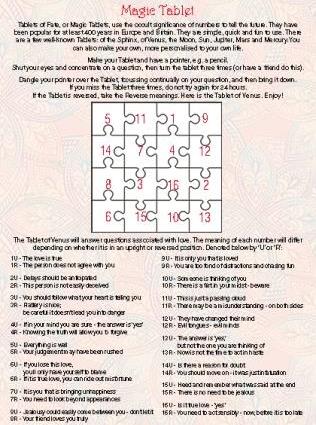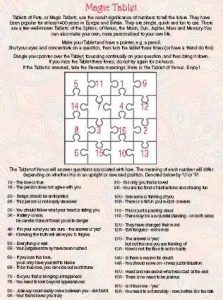 If you missed part 1 or part 2 of Lucy's psychic journey, then click through now. Then read on for her explanation of Magic Tablets!
Tablets of Fate, or Magic Tablets, use the occult significance of numbers to tell the future. They have been popular for at least 400 years in Europe and Britain. They are simple, quick and fun to use. There are a few well-known Tablets: of the Sphinx, of Venus, the Moon, Sun, Jupiter, Mars and Mercury. You can also make your own, more personalised to your own life.
Make your Tablet and have a pointer, e.g. a pencil.
Shut your eyes and concentrate on a question, then turn the tablet three times (or have a friend do this).
Dangle your pointer over the Tablet, focussing continually on your question, and then bring it down.
If you miss the Tablet three times, do not try again for 24 hours.
If the Tablet is reversed, take the Reverse meanings.
Here is the Tablet of Venus. Enjoy!
The Tablet of Venus
The Tablet of Venus will answer questions associated with love. The meaning of each number will differ depending on whether it is in an upright or reversed position. Denoted below by 'U' or 'R':
1U – The love is true
1R – The person does not agree with you
2U – Delays should be anticipated
2R – This person is not easily deceived
3U – You should follow what your heart is telling you
3R – Flattery is nice; be careful it does not lead you into danger
4U – If in your mind you are sure – the answer is 'yes'
4R – Knowing the truth will allow you to forgive
5U – Everything is well
5R – Your judgement may have been rushed
6U – If you lose this love – you will only have yourself to blame
6R – If it is true love, you can ride out misfortune
7U – It is you that is bringing unhappiness
7R – You need to look beyond appearances
8U – Jealousy could easily come between you – don't let it
8R – Your friend loves you truly
9U – It is only you that is loved
9R – You are too fond of distractions and chasing fun
10U – Someone is thinking of you
10R – There is a flirt in your midst – beware
11U – This is just a passing cloud
11R – There may be a misunderstanding – on both sides
12U – They have changed their mind
12R – Evil tongues – evil minds
13U – The answer is 'yes', but not the one you are thinking of
13R – Now is not the time to act in haste
14U – Is there a reason for doubt
14R – You should move on – it was just infatuation
15U – Heed and remember what was said at the end
15R – There is no need to be jealous
16U – Is it true love – 'yes'
16R – You need to act sensibly – now, before it is too late