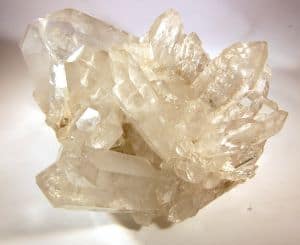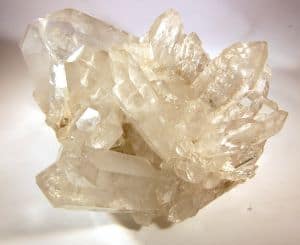 The clear quartz, known as the "master healer", absorbs and cleanses energies, amplifying thoughts and stimulating clear thinking.
Clear quartz is largely made up of silicone dioxide. It can be identified by its clear colour, which ranges from crystal clear to a milky, almost opaque appearance. Clear quartz comes in a variety of shapes. While it is often found in impressive hexagonal structures, you can also find it as a delicate part of clear quartz jewellery.
Quartz has been valued throughout history and countless civilizations have used quartz in healing and spiritual development from the Aztecs to the Ancient Egyptians. Clear quartz is the second most common mineral found in the earth's crust, meaning it can be found on almost every continent on earth. However it is thought the most beautiful clear crystals are mined in Brazil, Arkansas (USA) and Madagascar.
Healers agree that crystals are incredibly wise, and are able to communicate with us through energies and vibrations. A distinctive quality of the clear quartz is its ability to be programmed with energy. The clear quartz can be charged with anything we ask it to hold, and it will continue to broadcast this energy into the surrounding area. For example, if you fall into ill health, programme your clear quartz with healing energy. If the crystal holds the energy for long enough, and resonates strongly enough, it will intensify your healing and bring you back to health. The clear quartz also has the ability to cleanse energy, which is why a lot of people choose to use it as a feng shui cure around their homes.
If we are open and willing to receive this communication, clear quartz can open our hearts and minds to higher guidance. The clear quartz's positive vibrations have a great influence on meditation. It is possibly one of the most important crystals you can work with, as it has the ability to create strong connections with the higher realms. The clear quartz will aid all chakras, although it is thought to be particularly effective in healing the higher chakras. You can find out more about which crystal can be used to heal each chakra in our previous blog post on crystals.
To benefit from the healing properties of clear quartz, setting it in jewellery can be a great option. While extremely beautiful to look at, clear quartz necklaces and pendants can also be powerful in aiding personal healing. Charge your clear quartz jewellery accordingly. Trust your feelings and most importantly, listen to your crystal.
It is reasonably easy to find clear quartz in jewellery, the best way to find out what works for you best is to go to a good shop and start exploring!