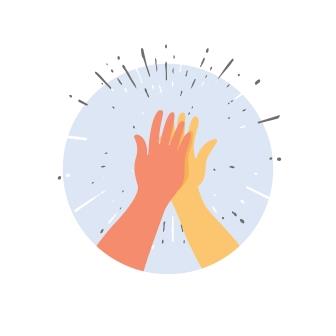 Friendship make us all happier and healthier people. For that reason, 1-30th September is recognised in the UK as Friendship Month. 
Our friends are said to be the family we choose!
As a quote by philosopher Aristotle goes: "In poverty and other misfortunes of life, true friends are a sure refuge. They keep the young out of mischief; they comfort and aid the old in their weakness, and they incite those in the prime of life to noble deeds." 
Oddfellows
Friendship Month is organised by not-for-profit organisation Oddfellows and aims to highlight the importance of friendship to the nation. During the month of September, the society stages free/inexpensive events up and down the country to connect people with their communities and help people make friends. The campaign has been running in the UK since 2010. It is all about reminding people how beneficial it is to have good, caring people around you. 
Now more than ever, Oddfellows is working hard to bring friends back together. As so many people have suffered during the pandemic with loneliness, isolation and social restrictions. September will see them hold many taster events up and down the country, some online and some in-person…
The gift of friendship
Many people believe true friendship is a gift that cannot be bought or sold. Many of us would be lost without trusted companions. Friends often understand us when our partners and family members don't, enduring the good, bad and craziest times of your life. Your group of friends are your support group and should be made up of individuals who you know you can trust and rely on when you need them the most. 
Your friends will motivate you, help you out with problems, and create everlasting memories with you. They will not judge you based on any of the decisions you make, good or bad. They also help you bounce back from the lowest of times. As we go through life and people come and go. Those who become our friends will hopefully remain and become a constant in our lives.
You certainly don't need an entourage of people around you to be able to say you have friends. It may just be that you are lucky enough to have one genuine, trustworthy friend to share your life and friendship with. Whatever the case, you should surround yourself with good people and always aim to be a good person to them in return.
Celebrate this month
September is the perfect month to get out there and celebrate friendship. Whether you want to show your appreciation for your friends, or are feeling disconnected and lonely, Friendship Month offers a warm welcome to everyone.
Events that are running range from walks and picnics, pub lunches, quizzes and afternoon teas. Giving everyone a chance to meet new people and, more importantly, make new friends.
Ideally, we should celebrate our friendships each and every day. But, we know that often this is not the case and we can end up taking our closest friends for granted. So, why not dedicate your daily meditation ritual to a certain friend this month. Or have a get together with your closest pals and enjoy spending time together? The choices are endless but whatever you do, make sure you make the most of the month and get out there and celebrate! 
Remember that while Friendship Month only comes once a year, friendship is something to be treasured forever!