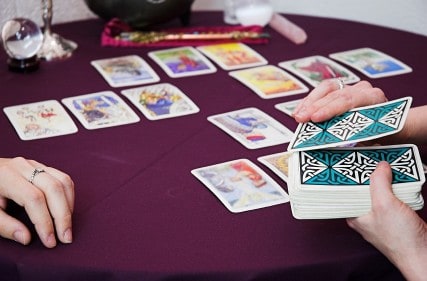 Tarot cards have been used for hundreds of years by psychics in order to give people guidance on their current situations as well as the possibility of finding out what is yet to come.
A tarot reading can help people to deal with many different situations. Different 'spreads' of the cards may help you understand a variety of topics including money, family, friends and love. A tarot reading may simply give you a fresh perspective on your issues or you may find it can help you plan for your future.
A popular tarot spread is the 'relationship spread.' Tarot is a great tool to help people understand their partners and highlight the areas of their relationships that may need to be worked on. A lot of the time your basic instinct about a situation will be correct, however a tarot reading may give you the assurance and support you need to make a decision. The relationship spread is useful in that it gives both sides to a relationship question, revealing how your partner feels as well as confirming your own perceptions.
When the relationship spread has been laid out, the positioning of the cards can reveal information such as how your partner views you, their present doubts and fears, and the future of your relationship. Disclosing your partner's feelings towards you may allow you to gain insight into your relationship and develop a better understanding of where you are headed.
You also may be feeling like you need answers if you suspect a partner has been unfaithful to you or wants to break up. Using the information the tarot spread gives to you, you may be able to open up the lines of communication and resolve the problem before it worsens.
Whatever issue you may be having in your relationship a Tarot Reading may just be able to give you the answers that you have been looking for. We have many professional readers working for us who are able to give you the guidance and support you are looking for during your reading.
We are also offering £5 off a credit card reading this month, so why don't you take advantage of this great offer and try a tarot reading from one of our psychic mediums. You may just find the answers you have been looking for!