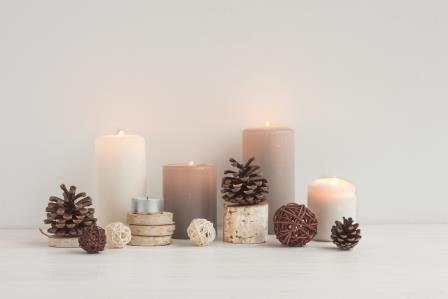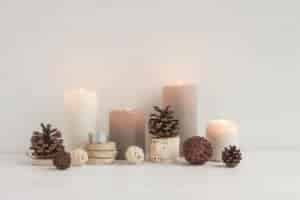 Decorating your home with candles, can be the perfect way to add a welcoming warmth to anyone visiting and of course for yourselves. There are now so many candles readily available to buy, from fragranced, to shapes, to a whole range of colours, that it can be difficult to know how to display them to best effect.
Where to put them
Candles offer a versatile decorating tool, you can use them to style a dining table, a fire mantlepiece, on kitchen countertops, on bookcases, a sideboard, hallway console tables – the places are endless.
Candlesticks
Of course, some candles now come in glass or tin jars, maybe even with a lid. But there is nothing more elegant than a display of candles in candlesticks. The holders can be glass, ceramic, wood, metal – whatever you have/can find. These don't have to be expensive, and you may find the odd one or pair in a charity shop that could be put to good use.
Arranging candles in a group, especially if using pillar style candles, with different styles and colours, and adding in the odd tealight can create a dramatic or homely display – depending on what look you are trying to achieve.
Layer & Height
Just like with flower arranging, candles benefit from being different heights when grouped together. If all of your candles are the same height, you can either cut off some wax from the bottom, or vary the size of the candle holder.
Your display doesn't have to be made up of just candles, add in other decorations from around your home – a mirror, a nice book, a tray, a jug or something Christmassy for this time of year. This helps anchor the candles and elevation creates some drama.
Equally especially during winter time, you could embellish your display with natural items like leaves, berries, cinnamon sticks and more, really anything that will add some extra interest and texture.