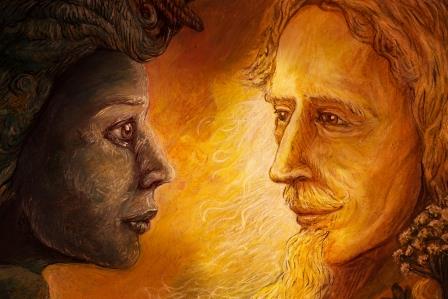 Many of us can find ourselves overwhelmed by overpowering thoughts and feelings that if left unresolved can end up affecting our normal everyday lives.
These feelings are completely normal, and spiritual counselling could be the answer to transforming the difficult issues in your life. You may have never considered turning to a spiritual counsellor before but after reading this article you may learn more about the process and hopefully feel more comfortable approaching a psychic for help.
Many people have never heard of spiritual counselling before and may not understand how it works, however the process is not all different to conventional counselling and in some cases proves to be even more effective. Spiritual counselling is different to other therapies as it takes into account the soul rather than the mind during healing. It treats the whole person and understands the uniqueness in every client, taking into account life experiences and belief systems. A spiritual counsellor will not only focus on the mind and personal feelings but will work on the deeper level of the soul, using methods such as prayer and meditation, assisting the client in inner balance and understanding all levels of the Self.
Spiritual counselling can be a positive way to address issues that you may have, and help to guide and support you through the tougher times. A spiritual counsellor can act as a mirror reflecting yourself, helping you recognize and understand your problems, which can lead to active resolutions as well as taking care of your whole well being. Spiritual readings can have drastically positive effects as they enlighten, reassure and effectively heal. A reading will allow you to learn how to transform and solve the difficult issues that you are dealing with in your life, which can then help you move on to achieve your goals and ambitions.
You may have never considered using a psychic service for help regarding personal problems but there is no reason to be apprehensive about trying a different approach. Spiritual Counselling is a progressive form of counselling and encompasses a large range of other different therapies, combining contemporary psychological theories with more traditional practises. A spiritual counsellor's role is to support and be entrusted with their client's progress and will make you feel comfortable, holding a sacred space for you to open up.
It is important for you to understand that you are not alone in what you are going through and although you may have supportive family and friends, you may find that talking confidentially to someone you don't know can give you the space you need to think clearly and objectively about your life. If you need help coming to terms with a particularly difficult time, then give us a call, we are always here to help. Our lines are open 24 hours a day, 365 days a year so there is never a time when you can't get hold of us if you need someone to talk to. We have many qualified and experienced mediums, who will deal with your call sympathetically and with great care. See ourMediums page for more information on each person and to see which service they are most recommended for.