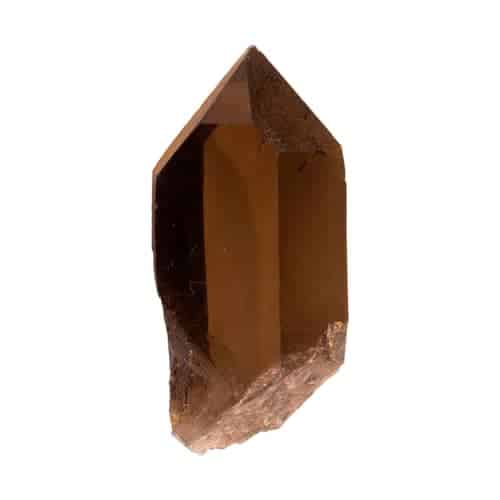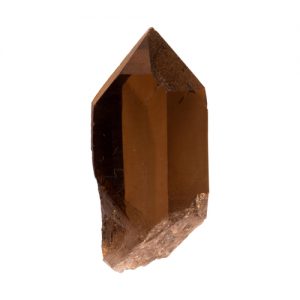 Smoky quartz is an extremely protective stone which brings both physical and psychic protection. It guards the wearer from negative energies by gently transforming any negative emotions it comes into contact with into positive ones.
Like other quartz gems smoky quartz is largely made up of silicone dioxide. It can be identified by its smoky colour which is caused by free silicon, formed from the silicon dioxide by natural irradiation. Its distinctive colouring can range from a smoky yellow-brown through to grey, brown or black.
Quartz has been valued throughout history and countless civilizations have used quartz in healing and spiritual development from the Aztecs to the Ancient Egyptians. Scotland also has a long historical association with this gem where it was considered a sacred stone, a belief that dates back to the Druids. Today, Brazil is the biggest producer of smoky quartz; however it is also mined in countries such as the USA, Bolivia and Russia.
So what is so special about smoky quartz crystal? Well physiologically it is a mood enhancer; it relieves fear, enhances security and safety and brings about emotional calmness. For this reason smoky quartz is extremely helpful when used to relieve depression, grief or even suicidal feelings. A good technique to feel the calming benefits of smoky quartz is to hold a smoky quartz in each hand and to sit quietly for a few moments when you're feeling stressed. Smoky quartz's effectiveness in cleansing and protecting our auras makes it great for psychic shielding. It removes negative energy from our aura protecting it from any harm that can come as a result.
Physically smoky quartz is particularly effective for ailments of the abdomen, kidneys, pancreas, hips and legs. The stone relieves headaches, cramps and strengthens the back.
Smoky quartz is a joy to work with. When used in meditation smoky quartz centres and grounds you, linking your physical and higher self. The crystal is primarily associated with the root chakra located at the base of your spine. If you are prone to going from emotional highs to emotional lows, the gem will help you to focus your thoughts and emotions, drawing and centering energy throughout the body. We have explored all about how other stones correspond to chakras in our previous posts on crystals.
To benefit from the healing properties of smoky quartz setting it in jewellery to be worn on the body can be a great option. It is often an affordable choice and never goes out of fashion. To benefit from the smoky quartz healing properties choose smoky quartz bracelets, rings or anklets worn around both feet. Also remember that the stone resonates most with the root chakra, so keep a crystal close in a pocket to effectively channel energy.
There is such a stunning variety of smoky quartz crystal beads on the market, have a look around and chose whatever resonates with you the most.