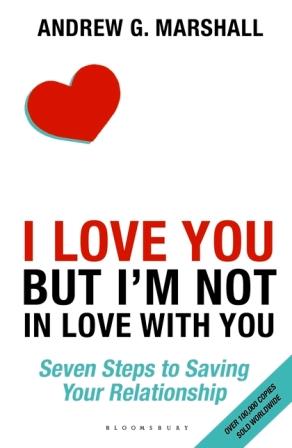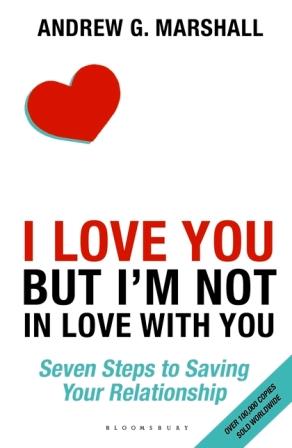 As Valentines approaches it is inevitable that we will think of love and perhaps take stock of our romantic relationships…
But what if one of you has thought, or even verbalised the dreaded sentence – "I love you, but I'm not in love with you." Does it have to mean the end of the relationship? Andrew G Marshall (one of the UK's leading and best-known marital therapists), doesn't think so. He explores this question and more in his 10th anniversary book 'I Love You but I'm Not in Love with You: Seven Steps to Saving Your Relationship'.
Marshall has written sixteen books, covering love, infidelity and relationships. He regularly writes for The Daily Telegraph, the Daily Mail and The Mail on Sunday, but at the same time he actively offers counselling giving him constant insight into today's relationships and dynamics and problems everyday folk encounter.
Can a couple fall back in love?
But perhaps it is this book that resonates so closely with people, especially those in long-term relationships. The question of whether a couple could fall back in love was something that was revisited many times as a theme in his counselling sessions. As you might expect many people seek help and advice when they have already reached the stage of feeling like friends rather than lovers, and where companionship now exists where once passion lived…
But have hope, as Marshall firmly believes that falling out of love does not have to mean the end of the relationship and that partners can become connected once more both emotionally and on a more intimate level.
Marshall believes that it takes a good deal of emotional maturity to express the feelings that you have fallen out of love; but if dealt with at the time it can act as a warning shot and something can be done to put things back together again. This is far better than one of you launching into an affair in order to put the excitement back in your lives, as it is so hard to undo the damage, the bitter feelings and inevitable recriminations that follow.
The book explores love in detail sharing research and information as it goes…You can analyse for yourself if your love is naturally changing as your lives transition from one period to the next or whether something more fundamental is going on!
This is a practical book with talking points and exercises that hopefully you can work through together. But at the end of the day even if you read the book alone, if you change your behaviour, naturally the dynamic of your relationship will change also.
The book covers some of these important skills:
How to argue more productively – in a way that addresses real issues.
It will help you establish 'trigger' words that make communication more effective
You will learn your partners 'love language'
You will deal with intimacy and taking your sex life to a deeper level
You will let go of the past so that you create new bonds
"I love you, but I'm not in love with you." Does it have to mean the end of the relationship? By Andrew G Marshall is published by Bloomsbury Publishing PLC and is available at all good book stores.