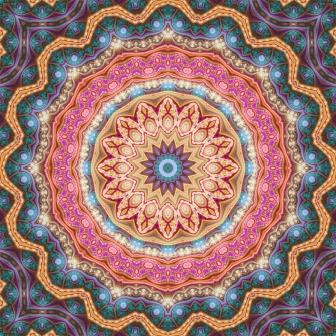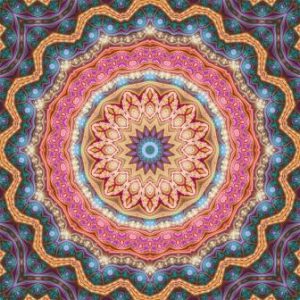 This time of year is very often focused on New Year's resolutions, much is written about the things we might want to change, but perhaps not enough on how we might go about it. Often resolutions are broken before they have begun, an so I thought we could look at ways to focus the mind, for ways to clearly visualise our future path so that any changes we need to make will be done with determination and clarity.
This has brought me to Mandalas; the word mandala derives from a Sanskrit word meaning magic circle or disc. They are used as part of meditation; the circular visual pattern acts as a focus point.
The purpose of meditating with a mandala is to unite our inner and outer selves and to approach a higher plain of consciousness. Psychologist Carl Jung believed that each mandala circle represented his psychic state on the day he drew it. This allowed him to gather strands of his life together over time; the sacred images represented his integrated psyche. To this point mandalas can be used within psychotherapy as well as meditation, patients that draw mandalas can find order through their inner confusion and find a focus point within them.
Both Navaho Indians and Tibetan monk artists are known to have created mandala drawings in sand – their expression of sacred vibrations created in multi-coloured geometric patterns. After careful studying the mandalas were swept away to make way for new versions and thoughts.
Mandalas have been used in many different cultures, they are mainly circular with a repeating pattern, but they can be divided in to segments and may include squares, crosses or triangles within their designs. Sometimes different images will be placed in the centre of the mandala signifying different meanings:
For example the Celts were intrigued by the symbolism of the eternal knot. They would design an interlaced line without a finishing or starting point, which coincides with their beliefs on eternity – the cosmic mind map creates an otherworldly state beyond the material plane we exist on.
To meditate on an endless knot – try the following:
Find somewhere peaceful and quiet and sit down comfortably. Breathe deeply and evenly.
Focus on the mandala (knot design in this scenario); let the image permeate your mind.
For 5-10 minutes just sit with the knot in mind, don't overthink things, or try to put thoughts in to words. Just accept the continual flow of time and eternity.
To end your mediation, pick an affirmation that suits the mandala you are working with. In this instance 'I value each moment in life, and recognise it as arc on the eternal knot of time'.