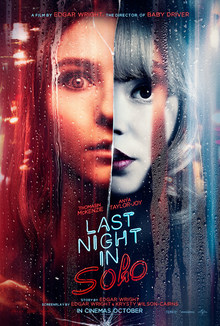 Last Night in Soho is directed by Edgar Wright, someone who is normally known for making comedies or films with a rom-com feel, so it will be very interesting to see his take on this thriller/horror film.
When talking to Empire, Wright said about the film: "There's something I have in common with the lead character in that I'm afflicted with nostalgia for a decade I didn't live in. You think about 60s London — what would that be like? And the reality of the decade is maybe not what she imagines. It has an element of be careful what you wish for."
www.empireonline.com/movies/news/last-night-in-soho-edgar-wright-1960s-nostalgia-exclusive-image/
Last Night in Soho Cast
You will no doubt recognise many of the cast members, starting with Anya Taylor-Joy, who you might recognise from The Queen's Gambit, then Thomasin McKenzie who you may have seen in Jojo Rabbit and of course Matt Smith, who barely needs an introduction – but you may well have caught in The Crown!
Release
It is fitting that this psychological horror movie has a near Halloween release date. You will be able to see it in UK cinemas from the 29th October 2021.
The Story
In the film, Anya plays a famous singer called Sandy in the 1960s, but she shares a mysterious link with Eloise, played by Thomasin – she is a fashion designer but from modern-day times! Matt Smith plays Jack – the love interest…
The trailer doesn't give that much away – which is a good thing really, as oftentimes you can feel like you've seen the whole plot in a 2-minute synopsis. But it seems that somehow Eloise travels back to the 60s, and takes over the body of Sandy – her idol. It is whilst inhabiting Sandy's body, that she embarks on a relationship with Jack.
Of course, this is a horror film, and so somewhere along the lines, there are twists and turns and 1960s London isn't what it appears, and some shady consequences ensue.
Last Night in Soho Trailer