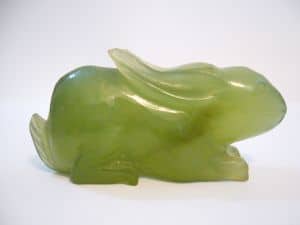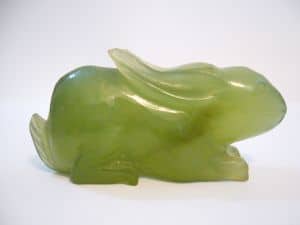 Jade is a symbol of luck and peace. A wonderful stone that is thought to bless whatever it touches, Jade opens and balances the heart chakra, bringing emotional healing.
Jade is principally composed of two different metamorphic rocks from the same mineral family-jadeite and nephrite, however it wasn't until 1863 that a French mineralogist recognised them separately. The two minerals can be found in the same gemstone but don't need to be. Both share the distinctive beautiful olive colour that we've come to know as Jade green, but can be found in a vast range of other colours. Nephrite can range from creamy white to dark, olive black or brown, whereas Jadeite may be anything from green through to lavender or even red. Jadeite is much rarer than Nephrite, and therefore usually more expensive to buy.
The healing powers of Jade have been blessing mankind for thousands of years. Used by indigenous tribes from South America to New Zealand, its metaphysical properties have made it one of the most revered gemstones in the past. Jade is possibly most highly esteemed in China. The stone has been ingrained in the countries culture and history, stretching back almost 9000 years to the Chinese empire where it was used to craft everything from ceremonial objects to the mouthpieces of opium pipes. Its significance to Chinese culture is comparable to that of diamonds or gold in western culture, valued for its beauty and healing powers and protection.
Known as the dream stone, Jade enhances our ability to dream-solve, as well as to access the spiritual world, gain insight and lift emotional issues, bringing them to the light for resolution.
Its influence is thought to help you realise your full potential, reaching inner peace and calmness. It is one of the few stones that will not absorb any negative energies at all, but instead protect you from them, constantly spreading beneficial vibrations to the surrounding space.
Jade is the perfect gemstone for inner peace meditation. Olive shades are often most beneficial, and Jade can be used to help you achieve a deep state of relaxation. Jade also relates to the fourth chakra, and you can experience beneficial effects on all heart related issues, whether they are physical or emotional. You can find out more about which crystal can be used to heal each chakra in our previous blog post on crystals.
To benefit from the healing properties of Jade, setting it in jewellery can be a great option. Prayer beads or a beaded necklace works well with meditation, and bear in mind wearing Jade close to your heart can be most beneficial. Jade pendants, necklaces and brooches are excellent ways to benefit from the healing energies of this calming crystal.
Look out for Best Medium readers Hayley, Adam and Pattie who can all guide you further with crystal healing.