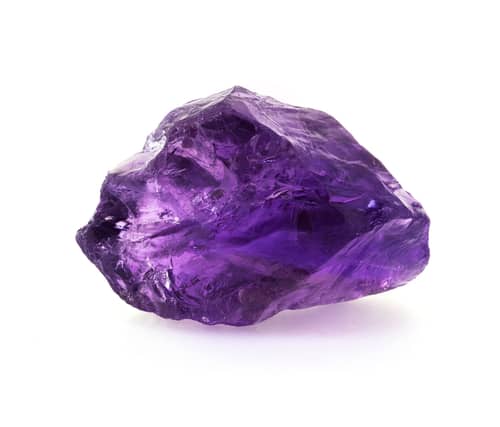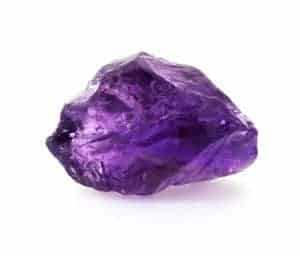 The purple amethyst is a cleansing stone, promoting internal balance and harmony to the individual wearer. Often worn during contemplation, the amethyst sharpens the mind and keeps thoughts in line with life goals.
As a variety of quartz, the amethyst is made up of silicone dioxide and is hard, durable and tough. The amethyst is commonly distinguished by its unique shades of purple, caused by small amounts of iron impurities in the crystal structure of quartz. These shades of colour can range from a light pinkish violent to a deep mauve, however the deeper purple of the amethyst, the higher in value it usually is. 
The name 'amethyst' comes from the Ancient Greek meaning 'not intoxicated,' a reference to the belief that the stone protected the wearer from intoxication. The ancient Greeks and Romans believed that drinking wine from vessels made of amethyst would provide them with a strong antidote for alcohol and would therefore prevent them from getting drunk. In other cultures such as Ancient Egypt, the stone was seen to be a powerful charm against witchcraft.
Today, Brazil is the biggest producer of the amethyst where it occurs within large volcanic rocks; however many fine amethysts are also found and mined in countries such as South Korea, Zambia and the United States.
The amethyst is cleansing both physically and physiologically. Capable of many things, the amethyst is perhaps most often used as a dream stone to treat insomnia, banishing stress and aiding relaxation. It is also thought to be a powerful psychic tool, enhancing abilities and spiritual awareness whilst protecting against attack.
On a physical level, amethyst strengthens the immune system, reduces pain and strengthens the body to fight off disease. It is therefore felt to be a tonic for headaches, mental illness, anxiety, concussions, and depression.
When used in meditation the amethyst resonates most powerfully with your higher chakras– the crown and the third eye. These chakras are often thought of as the main energy centres of the human body, making amethyst a popular choice of healing stone. You may remember we have explored all about how stones correspond to chakras in our previous post on crystals. The amethyst is a stone of peace – if you are prone to problems with anxiety and stress, this gem will help to calm fears and centre your emotional being, lifting your spirits.
A great idea is to have a peaceful amethyst worn as jewellery. They are excellent to keep on you as they have a strong psychic protection vibration, so keep its energy close to benefit from the results. As your day begins, hang an amethyst pendant round your neck, and allow it to resonate with your chakras. It's easy to see why these lovely purple crystals are such a popular choice. Earrings, rings, necklaces or brooches made from this purple crystal are all readily available and equally beautiful.
However you decide to integrate amethyst into your life, you'll be glad to have its cleansing energy surrounding you, calming life's emotional storms.