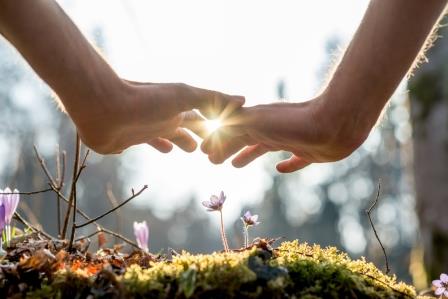 Healing Introduction
At its most basic level energy healing brings about some change in the person being helped, even if they did not expect it – this may manifest as a physical, emotional, mental or spiritual change.
All of us will have acted as healers at points in our lives, comforting a child after a fall, or reassuring a friend following bad news. A look, a hug, a kiss, kind words and empathy can all bring about a change in how the person was feeling before you passed on your healing energy to them.
When a medium provides healing, they are normally channelling their abilities from a higher power. They may not see themselves as the healer, but a conduit in which to pass on the healing energy. But others will feel that they are the healer, and they will use energy channelling to directly impact a person's aura, sometimes using prayer, and in other cases affirmations or complementary therapies to bring about the healing action.
The person seeking healing is of course unique in this situation, and as such how they respond to healing will be unique to them. Hopefully the healing energy will wake up their body and encourage it to heal itself.
Channelled Healing
Channelled healing is a spiritual form of healing, in this scenario the medium calls upon a higher force to bring positive energy to the person. Mediums can use this form of healing without experiencing a loss of energy as the healer, as they are drawing on the powers of a higher-source.
This type of healing can be carried out in a hands on way, face to face or whilst talking to the person over the telephone. But also can be given at a distance – known as absent healing (as long as the person has given permission for a healer to provide absent healing).
Absent healing can at first seem like a difficult concept, especially to someone who has only experienced conventional medicine. But in essence energy follows thought, so a healer just needs to engage in their mind the person they wish to send healing too and then reach out to them. The more frequently this happens, the stronger the connection will become.
To be continued in next weeks post.
Ref: The Essential Guide to Myth, Magic and The Supernatural, by Cassandra Eason