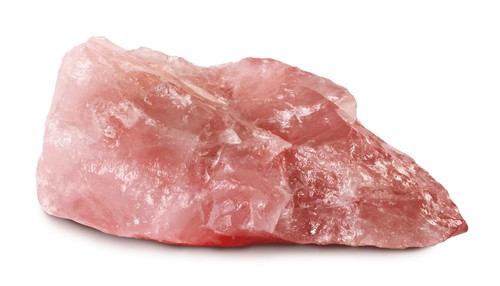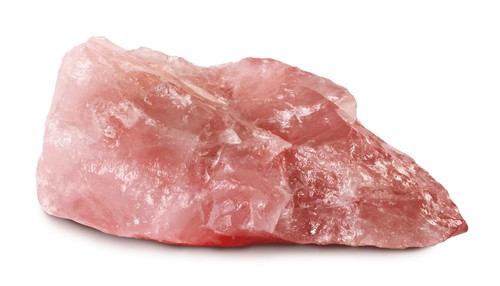 Rose Quartz also known as "the love stone" is one of the most popular stones in crystal healing.
A silicon dioxide crystal, Rose Quartz is one of the most common varieties of the Quartz family. Its name is derived from its soft rose colour, which ranges from very pale pastel pink to deep rose red. Deposits of Rose Quartz have been found in Madagascar, Brazil and Japan, as well as parts of South Africa, and the USA. It may be found translucent or transparent but most pieces are fairly opaque.
This stunning pink stone has been associated with love, friendship, peace and beauty for centuries. Prized for its powerful properties, Rose Quartz masks have even been recovered from ancient tombs, believed by Egyptians and Romans to clear the complexion and halt the ageing process. The stone has also been held in high regard throughout the years by Oriental cultures, and is still one of the major carving stones of China.
Rose Quartz may have been used as a love token as early as 600 B.C. and is still an important talisman of relationships, often referred to as the stone of universal love. Its pink colour draws and holds the energy of love, and is often used to call in love or strengthen a struggling relationship. It is also useful in healing ones heart from pain or disappointment.
In psychic and spiritual realms, Rose Quartz can be used for dream work or in crystal healing, to release emotional wounds and traumas. Unsurprisingly, this crystal speaks directly to the heart chakra and can be extremely effective when used in meditation. To make the most of the healing powers of Rose Quartz, the meditator lies down with the stone placed over their heart and breathes in deeply, inviting the healing pink light to spread throughout their body. They do so silently until they feel calm and safe.
Physically, Rose Quartz is thought to help with aspects of the heart and circulatory system. It is ideal to work with if you suffer from heart weaknesses, tension or stress. You may even want to take tips from the ancients and use Rose Quartz as an elixir to clear the skin, reduce wrinkles or promote a soft complexion.
If it sounds like you could benefit from its healing properties, you can find all sorts of adornments made of Rose Quartz. As a crystal, it is relatively cheap so invest in a Rose Quartz necklace and allow it to resonate with your heart chakra. If you are not able to get hold of jewellery, Rose Quartz can be found as smooth tumbled stones in gift or gem shops – simply put the stones in your pocket. Their loving vibration will resonate energy wherever you locate them.
If you are looking to work with Rose Quartz, or any other crystal, specialist readers can advise you on any matter of the heart, whether it is problems in your relationship or simply finding love.
Rose Quartz teaches us that being happy, healthy, peaceful, and surrounded by love is a right, not a privilege.