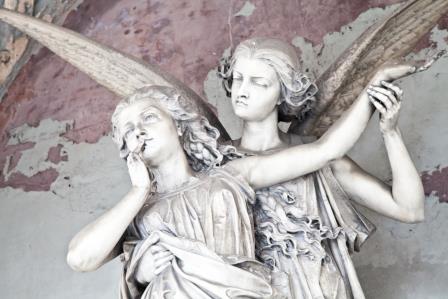 Guardian Angel Connections by reader Yianna, Pin: 3242
The minute you enter the world beside your mother, guess who else is waiting to meet you? Your very own guardian angels! Yes you have more than one…and as you go through life you will collect a few more along the way, your angels are with you from your first breath to your last, they never leave you, ever, just because you cannot see them, it doesn't mean to say they are not there.
We hear the term often, 'oh someone must have been looking after you there', well this is 100% correct! The most important thing you should remember is, 'you are never alone', even if you feel like you are sometimes. So when you are down, or are feeling blue, remember who is sat right beside you, waiting to comfort you – all you need to do is ask.
As a spiritualist clairvoyant, I have worked with my angels since I was three years old, they guided me through a very difficult childhood. Many people ask me "How can I meet my guardian angels?" Or "How do I know they even hear me?" Well, I often tell people to just be confident in the knowledge that they are around, but if you really want to be sure then light a white or cream candle and ask… Yes you heard me right! Ask them if they are there with you, and watch the candle flicker…
Every day I light candles, I even have a jar for candles with an angel on the front, this is my way of showing respect to my angels, plus it gives you a sense of peace, you should try it and see how you feel after. Often after lighting a candle I'll say a little prayer, which gives me a great feeling of relaxation and peace within, as if I'd been touched by my angels and felt the warmth of their hearts – but you should find your own way, whatever makes you feel comfortable and connected.
Sometimes I have been called Angel (due to my very blonde hair and changeable eye colour), which I don't mind at all. It makes me feel even more linked to supporting clients with my gifts. From the bottom of my heart I seriously care about people when they are suffering or are down; I have often been brought to tears from the sadness some of my clients have been through. Over the years reading for repeat clients has let me become close to them and in a way our lives become entwined.
There have been many times in the past that I have needed the guidance of someone who cared; and my army of amazing angels have been there for me through the good and bad. And it is this journey that allows me to offer my life experiences and the gifts I was born with to customers who need advice. So whatever your problems are, I'm here to listen, care and understand what you are going through…
I specialise in relationships and human behaviour, so if something is troubling you, let my angles and me assist you; I'm very down to earth and have a good sense of humour, so instead of tears, together we can make light of a bad situation and find laughter together.
Until then, Yianna