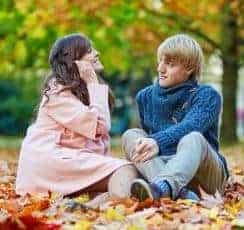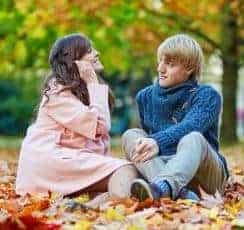 It is sad to say goodbye to summer, but every season has its delights and the beautiful autumnal scenery that the autumn season has to offer is the perfect backdrop to falling in love.
Kids get back to school, we reluctantly put away our summer clothes and normal routines resume. So, why not take stock of the stirring season to assess your love life…
Is now is the time to find your perfect mate?
Not something that you might think about immediately, but the colours of autumn – golds, reds and orange fill our gardens, hedgerows and countryside and make us want to embrace the outdoors, the air is thinner and it is easy to breath – creating a relaxing atmosphere away from busy working lives and responsibilities. From a science perspective cooler weather signifies to our bodies that it is time to settle down, to nest and get ready for winter.
Staying with science, from a biological standpoint the animal kingdom and humans alike are driven by nature and autumn produces a dynamic mating season. From a primal perspective we procreate in autumn to have summer babies, as traditionally the summer period has fine weather, plentiful food and is low stress. Summer time is seen as a low key period when we can travel, relax a bit from our daily lives and generally be care free, but as autumn turns so do our thoughts of being a bit more serious, settled, getting our affairs in order and generally looking to settle down.
In some cases people are sportier in summer, good weather allows us to do activities that might be more difficult in the cold and wet, also trying to look good in swimwear and on a beach on holiday can be a huge motivator. But these types of activities often take a slide as we delve further in to winter. This year, try not to let that happen – doing regular exercise really does keep up your feel good hormones, your renewed energy and enthusiasm can be very attractive to a potential partner. Plus going to the gym or exercise class gives you another social opportunity away from existing friends, family and work – you never know who you might meet!
Talking of social activities – embrace all of the holidays that autumn and winter have to offer: birthdays, Halloween, Thanksgiving (if you have American friends), Christmas and more…It is easy in the colder months to put off going to social gatherings, the thought of getting dressed up, venturing in to the cold can seem like too much effort, when you would rather be eating Quality Street on the sofa, but do make the effort as there are rich rewards when you do. Casual mingling with new people and a little bit of flirting can do wonders for your confidence. These are the perfect opportunities to meet someone who would normally be outside of your circle.
Autumn provides the real prospect of 'turning over a new leaf', whether you have recently broken up with your partner or have been alone for a while, or even if you are in a relationship – but something doesn't feel quite right. Then use the season to take a breath and start afresh. Your self-esteem can take quite a knock post break-up, so take time to evaluate yourself and appreciate all of the wonderful qualities that you have and everything that you can bring to a new relationship. Be kind and gentle to yourself – like yourself just that little bit more, then hopefully out of the buds of friendship a new relationship might just blossom.