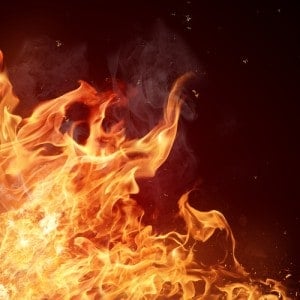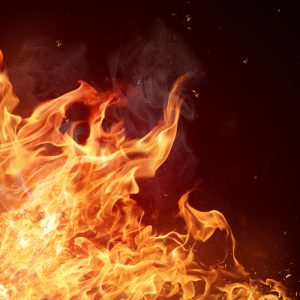 Since the beginning of creation, the element of Fire has been an important part of all cultures and religions, vital to the development of civilisation.
Fire
Season: Summer
Direction: South
Symbol: Flame
Colour: Red
Governs: Light, motion, change, love, passion, creativity, will power. 
Working With Fire
As an element, Fire is often regarded as a metaphysical constant of the world. Fire provides the world with light, heat, and a source to cook our food. On the other hand Fire can also be deadly and destructive force that can be used as a weapon.
In order to work successfully with this element we need to be able to learn to control its destructive aspect. Learning to regulate and appease your inner Fire is your task but it will help you harness its power.
Unsurprisingly, summer is the best time to connect with the power of Fire and is a great opportunity for healing and regeneration. The element of Fire is the spice, the drive, the spark, which helps to forge our ideas and inspirations into reality. You can connect with Fire by eating spicy foods, and going out and feeling the warmth and light of the sun. Try meditating outside on a sunny day and feel the suns rays, penetrating you inside and out. Gaze upon the transformative and illuminating flame of a candle or log fire and immerse yourself into the energy of Fire.
You can use the element of Fire to help any aspect of your life. If you regularly wake up with the 'blues,' incorporate reds, yellows and oranges into your bedroom or burn a sun yellow candle. All these sources of Fire will nourish and feed your spirit, chasing away feelings of doom and gloom.
Fire is masculine in character, and when your element is in balance you tend to have better judgement, focus and reason. Low Fire may cause somebody to become numb and have little confidence, whereas an over-abundance of fire causes people to be anxious, over excited and restless. 
Fire Personalities
Fire is associated with the star signs Aries, Leo and Sagittarius. Those born under the Fire element tend to be passionate, intuitive and enthusiastic. Just like a Fire itself, they have a tendency to flare up whenever they feel inspired.
Fire personalities thrive on energy and are able to quickly change their emotional state. They seek passion, sensation and drama but can also be polite and eloquent.
Fire personalities succeed when they are experiencing love, compassion and becoming generous and warm-hearted. They are outspoken and talkative but they should try and listen to others more – they may just discover something that could help them achieve their goals!
The element of Fire can truly enrich your life if you learn how to harness its power. There are plenty of resources online which can inform you on which element dominates your personality and give you more details on how to work with Fire.