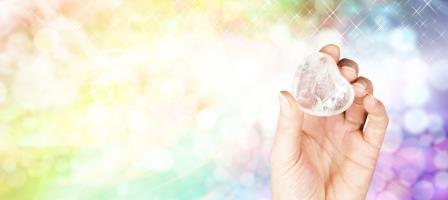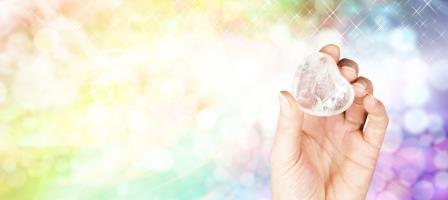 Crystals are now widely available; you might find them in new age shops, special spiritualist shops and even museum gift shops. If you are thinking about buying a stone for the first time or even adding to your collection, don't agonise over the decision too much, sometimes rather than finding a crystal for the right situation – just let your intuition guide you. Many times the gem that you are most attracted to in that moment, is just what you need as a psychic healing partner.
If psychic healing is your main reason for obtaining a crystal then you don't have to look very far – raw amethyst or a clear rock quartz would work perfectly, find a stone that fits perfectly in the palm of your hand.
If you are using a crystal for the first time for the purposes of healing, or if you are using something from your collection that you have not connected with in a while, then the stone needs to be cleansed in order to restore its 'crystal power'.
Cleansing Ritual
Place your gem under clear running water for a few minutes.
Put the crystal on to a clean plate (china is ideal) – not plastic.
Leave the stone on the plate in direct sunlight for several hours. (September is a great month to cleanse stones, as you still get good sunlight and hopefully not too much rain).
Throughout the process – visualise the crystal being energised by a ray of bright and clear light.
You should cleanse your crystals regularly, to get rid of any unwanted energies and to trigger the healing powers. Then keep it in a safe and sacred place to you.
If you want to use your crystal specifically for healing work, then you can follow the same rules as above, but rather than leaving it out in the sun, try wearing the gem close to your body for several days, this will align the vibrations of the crystal as closely with your own as possible. When you are holding the crystal in your hands, you should be able to feel all of its latent energy, invoking the assistance of a spirit guide or guardian angel at the same time will only heighten your awareness of the pulse of power the crystal provides. Once you sense it is fully programmed to your unique needs, you can store it in cotton or linen and again put in a safe place until needed.