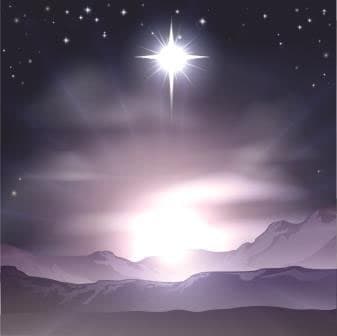 Christmas Star
A star is often placed on the top of a Christmas tree to signify the light of the sun, or as a symbol of the nativity star that led the magi to Jesus. There were three contemporaneous events where Jupiter and Saturn formed a unification that might explain why the star that appeared above Bethlehem at Christ's birth might have appeared brighter in the sky on that particular night.
Mistletoe
Mistletoe usually grows on deciduous trees; it is a parasitic plant with evergreen leaves. It was a magical plant to the Greeks, Celts and Romans. In time gone by it even would have been used in animal's drinking water to increase fertility! Perhaps there is some link there for how we think of it today as something to kiss under during Christmas time…Washington Irving is supposed to have said that young men had the privilege of kissing girls under 'mistletoe kissing bushes', which would be hung in a room where people would frequently pass. But each time a kiss took place a berry had to be plucked, and when all of the berries had been picked the kissing privilege ended.
Hunting the Wren
We now think of the 26th December as Boxing Day, but previously it was known as The Feast of St Stephen. It commemorated the martyrdom of the Christian Saint who was in hiding, but his location was given away by a chirping wren. Hence a custom of 'hunting the wren' was born. But don't worry its actually a lot more cheerful than it sounds: groups of people would go house-to-house carrying a wren and singing in return for hospitality.
As the year ends, I have a tradition of making a wish list – I put the list behind a photograph of someone I really care about and leave it there for a whole year. On the 31st December, I take it out to see how many things have come true. I find it is both fun to do, and also gives hope of a better year to come…
In a second ritual, also on New Year's Eve, just before midnight I light a candle, I go outside and as the clock strikes 12, I blow the candle out to expel any bad energy away from my life and home. Then I go inside and light a new candle, which lets in the New Year and all of the fresh energy and excitement it offers.