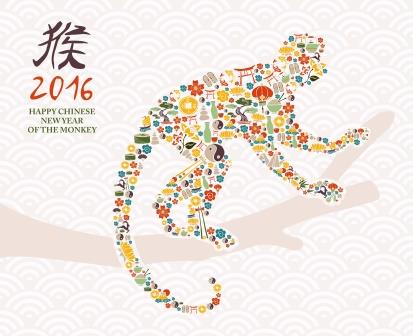 Chinese New Year
2016 brings in the Year of the Monkey, commencing at the beginning of Chinese New Year on February 8th. The animal sign of the monkey will run until the 27th Jan 2017, and then the next day begins a New Year and a change to the Rooster.
Previous Monkey Years have been:
1920, 1932, 1944, 1956, 1968, 1980, 1992 & 2004
Following 2016 the next Monkey cycle will be in 2028
If you were born in a Monkey year then future monkey years can be unlucky, for example if you were born in 1968, then you were born in a Monkey year and now 2016 is a Monkey year. This is not just unique to the Monkey sign; Chinese Astrologers believe that your birth sign is the most unlucky in the 12 year cycle. So you should take extra special care of all aspects of your life from your health, to love to career to money and try to instil more luck in your life.
To help you on your way, here are some things considered to be unlucky and lucky for Monkey's in 2016:
Unlucky
The numbers 7 & 2 and any combination of them
The colours red and pink
Directions – South and South East
Chinese lunar months – 7 & 11
Lucky
The numbers 9 & 4 and any combination of them
The colours gold, blue and white
Directions – North, North West and West
Chinese lunar months – 8 & 12 and the 14th & 28th of any Chinese lunar calendar month.
Flower – Chrysanthemum
Personality Traits
Those with a Monkey zodiac sign are normally considered to be intelligent, quick-witted and charismatic. They will do well in their careers and also in gathering wealth. They are unfaltering honest, but also gentle – both things help them to achieve everlasting love in their relationships. Their enviable traits are enthusiasm, being sociable, they are innovative and self-assured. But Monkeys are not without their shortcomings, they can be impetuous, show a temper, and be selfish and or arrogant as well as looking down on others.
Ref: China Highlights